Sweet Success


Sweet Success online free spin casino slot promises lots of colours and animations to lighten up your online slotting experience. It features a vibrant theme presenting Candyland and playful figures popping up on the screen as you play.
Sweet Success slot is inspired by the popular candy-themed games that are highly popular with the youth for their addictive game design. It is an ideal game for beginners looking for free spins and more, but has it got what it takes to be popular with the expert slot players out there? Read on to find out, or sign up for more free online casino slot games.
Quick Links: Rio Bingo | Bar Bar Black Sheep Slot | Cops and Robbers Slots | Centurion Slot | Fluffy Favourites Bonus | Sugar Train Slots | Beehive Bedlam | White Wizard | White Wizard Deluxe

Sweet Success Slot Games Developer - Genii
Sweet Success online slot is the creative product of Genii Gaming. These slot producers have managed to anchor themselves in the slotting industry with their top-notch casino slots.
These experts have a unique style of putting together individually licensed products to form one masterpiece. They have done it with most of their slots, which have been great successes.
With their collaborations with other big names in this industry, Genii has established a strong customer base in a short time. They make sure that all their products are packed with features, bonuses and free spins any casino player would love to play with.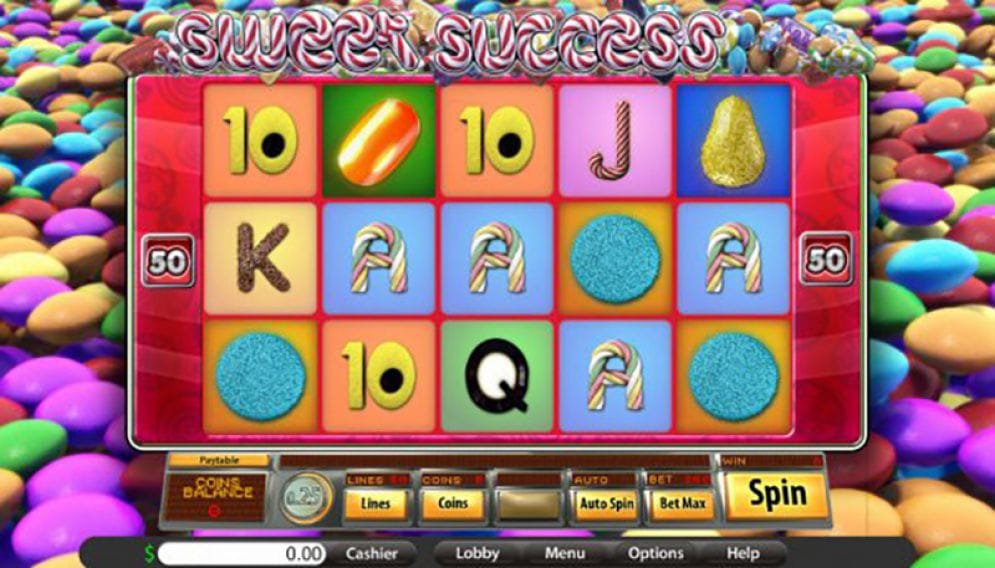 Sweet Success Gameplay and Symbols
Sweet Success online casino slot features 5 reels, 3 rows and massive 50 pay lines. You can pick the number of lines you want to play, which will increase your chances of winning. The bets can be from 0.50 per spin to 62.50 with all pay lines played together.
Most of the symbols in the Sweet Success slot are candies of all sorts. They are, in fact, the normal cards that you might come across in other online slots with similar payout values.
Some candies offering bigger payouts are Orange Candies, Black Jelly Beans, Yellow Candies, and Blue Candies. This casino online slot features one wild symbol, and 3 scatter symbols. Normally, a colourful Lollipop is the wild appearing on the reels, but a random wild might show up sometimes to add extra wild symbols on the reels for enhanced rewards.
Scatters found in Sweet Success slot are pretty diverse, too. There are purple and white candies serving as standard scatters that have the power to activate the Bonus Spins mode. The Orange Gumdrop is the high-paying scatter, 5 of which multiply your bet 100 times.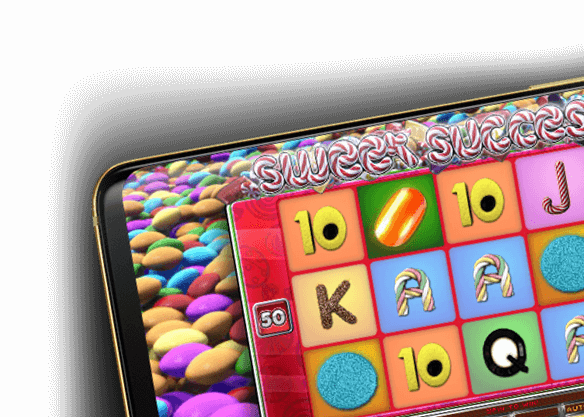 Bonus Features and Free Spins
To keep the fun going, Genii has given two significant bonus rounds in this slot. The first one to catch is the Bonus Spins round offering plenty of free spins to work with. The second is the Picking Bonus game.
Look out for purple and white candies on the reels. Combos of 3 or more of these scatters trigger the Bonus Spins feature. You can expect to get from 10 to 30 bonus free spins with these candies collected in different combos.
In terms of reward values, Sweet Success Bonus Spins feature adds a 2x multiplier to all your rewards. Even further in the gameplay, players can activate this feature again to keep winning free spins.
The Green Gummy Bear scatter unlocks a special picking game in this slot if you collect 3 or more of these. Although the Gummy Bears have their regular payouts as well, their bonus payouts are even higher.
If you manage to collect these scatters in combos of 3 or more, you can expect multipliers of 2x, 10x and 40x to be added to your overall bet. You can imagine these multipliers boosting your top wager to a whole new level of success.
The picking feature lets you choose out of the given prizes that line up after every spin. How many prizes you can choose depends on how many scatters you collect. Also, the rewards coming from these prizes depend on your original bet.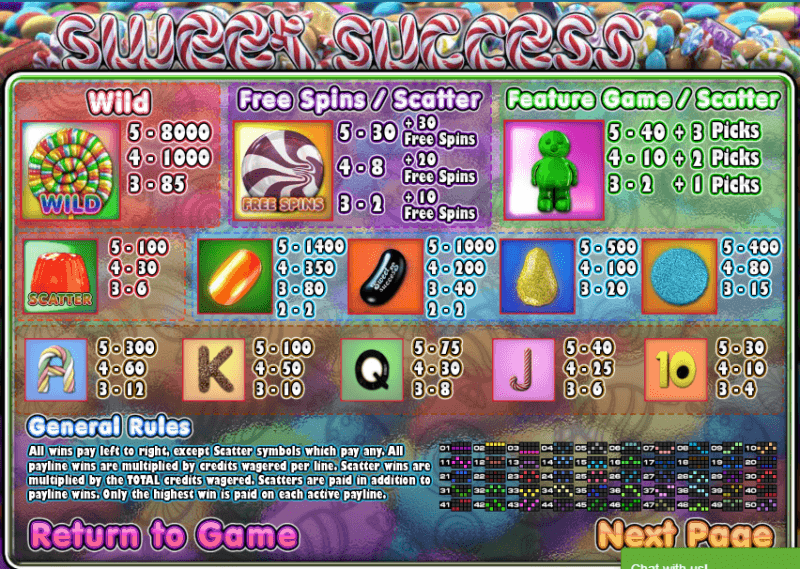 Our Verdict on Sweet Success Slots
This casino slot has an RTP of 96%, hence emphasising its medium to high volatility. As final thoughts, we regard Sweet Success online slot as a pretty decent option with some unique and rewarding opportunities to win big.
Despite an overly animated theme, the rewards are good enough for any level of slot players. For more great slots, check out the Star Stacks slot.