KGB Bears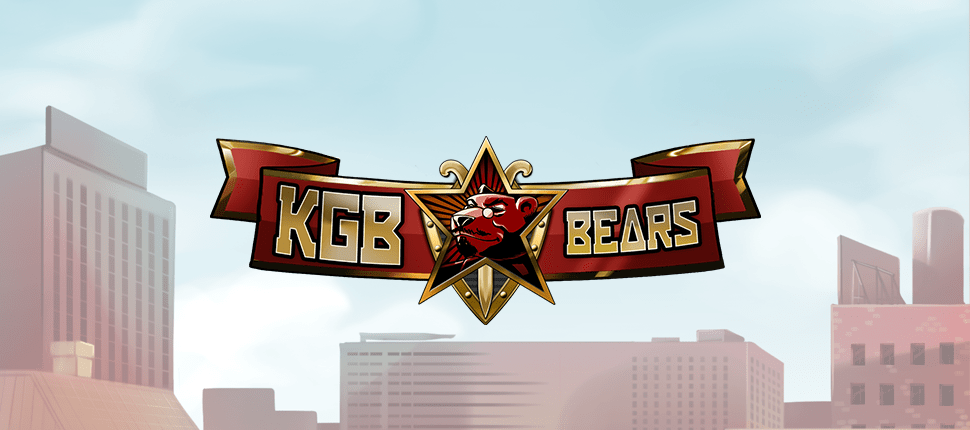 A historic-themed slot featuring bears, what's not to like?
The Cold War is an iconic part of human history. Still to this day do we discuss what transpired during the Cold War, with the KGB being among some of the more common topics of conversation.
In this slot you are given a chance to take a walk into history once more, only this time the KGB is represented by a series of bears, that's right, you heard us: bears. Now slots that have a historic theme will always derive attention for us as there is a lot to learn in these types of slots, despite there being bears in the place of humans.
If you are looking for the perfect history lesson: one that pays you while you learn, then you should be experiencing KGB Bears for yourself. Want to learn more about this interesting take on history? Be sure to read the rest of our review to learn more, then play the game with Mega Reel a free casino! 
Quick Links: Fluffy Favourites | Starburst | Rainbow Riches | Bonanza | Mega Moolah | Eye of Horus

About the Developer
Launching in 2012, developer The Games Company was welcomed into the online gaming industry with open arms. This developer has been hard at work in establishing a base with players everywhere, creating a bond that is not easily lost.
In todays online slot landscape, players seek only the best free slots games, and with The Games Company you are given only the top tier slots that you've come to expect from any reputable developer. These guys are based in London but all of their slots are recognisable worldwide, which is only a testament to their work overall.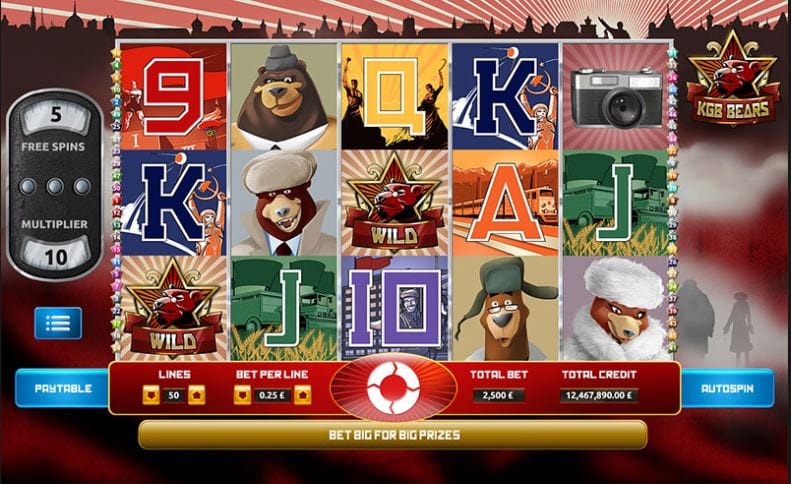 About the Game
KGB Bears is a 5 reel game that is played across 50 pay-lines, a very interesting lay-out, especially when you consider the status quo of most online slots now having slightly less pay-lines. In this slot there is a mixture of both low and high value symbols on the reels. Low value symbols are represented by the various letter symbols.
Low value symbols do a great job in adding to some of the smaller victories in this slot. All high value symbols offer something different depending on what you happened to be matching on the reels itself. The more symbols you match the higher your scores, remember that.  
In terms of additional features, you will find that these bears have a few tricks up their sleeves here now. The most common feature you will find is the wild symbol. This symbol substitutes out all other symbols but the scatter symbol.
The scatter symbol is represented by the camera symbol, and when matched will unlock various free spins accordingly. Free spins are useful in that they give players multipliers that will throw scores up the pay-table. Click here now to browse our mobile slots.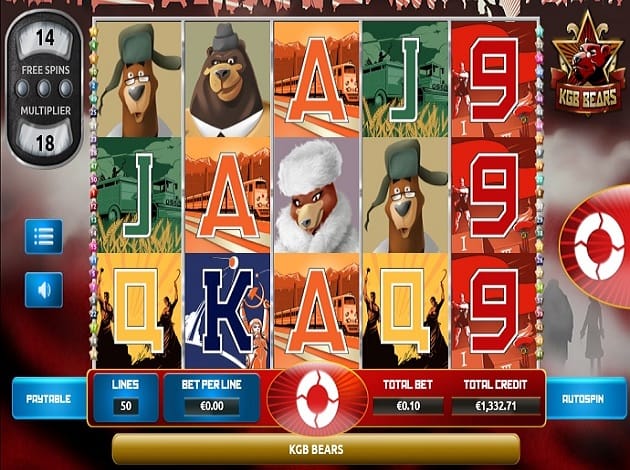 The Verdict
If you are someone looking to take a walk into history with some very secretive bears then you will find that there is no greater online slot to play than KGB Bears. Everything in this slot is expertly done, from the interesting gameplay elements to the overall look and feel of this slot.
If you have yet to experience this slot then just what are you waiting for? Play KGB Bears today, and if you like this, be sure to check out Keno Neo!