Keno Neo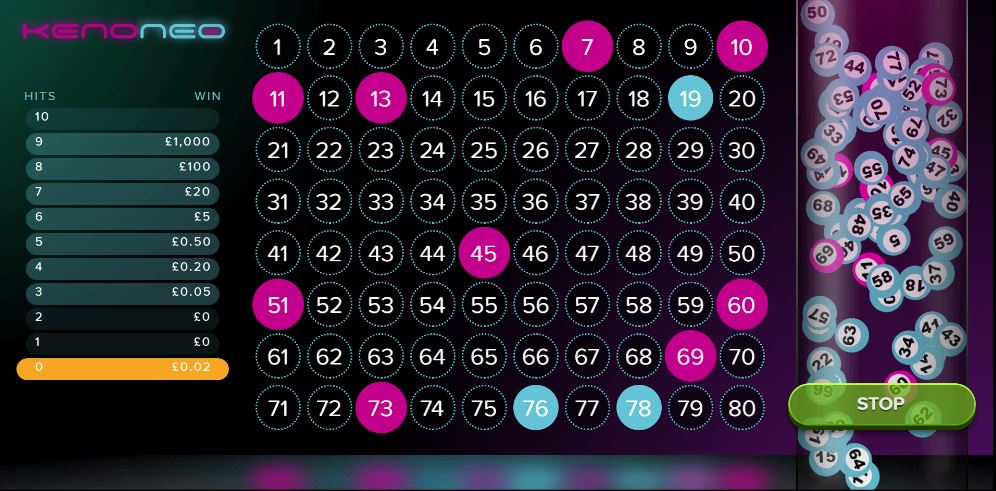 Keno Neo joins an ocean of online casino games, bringing you the bar favorite Keno. Because, really, who doesn't love gambling?
Keno Neo brings the obvious keno aspect to the table, but also has a little bit of flash and panache with a clean, modern look. Plus, the player gets to gamble in euros, which instantly makes you feel like James Bond.
If you're going to play an online gambling game – like blackjack, slots, craps or, yes, even keno -- it needs to stand out and Keno Neo feels like an adventure into a futuristic bar where you can drink your troubles away and gamble a few bucks as well.
If you want to play free slots follow the link above!
Quick Links: Legends Of Cleopatra Slot | Jokers Jewels | Dragon Kingdom | Thunderstruck 2 | Mustang Gold | 20p Roulette

About the Developer
Pairplay is the developer credited with bringing Keno Neo to you and also offer a variety of other casino-style, mobile casino, bingo and lottery games, you can get your fix in a variety of ways while getting a plethora of bonuses.
Pairplay is also in on the ever-growing fruit slots gaming industry, bringing their own interesting take on the genre. Not only that, but they have a strong focus on mobile gaming, allowing you to continue gaming from anywhere you happen to be at that moment.
Perhaps most importantly, Pairplay is a multi-channel gaming B2B business, meaning Real Money Gaming (RMG). Sometimes, blowing through your fake stack isn't enough and you need the rush of throwing a little of your own dough into the mix.
Discover more slots by clicking here.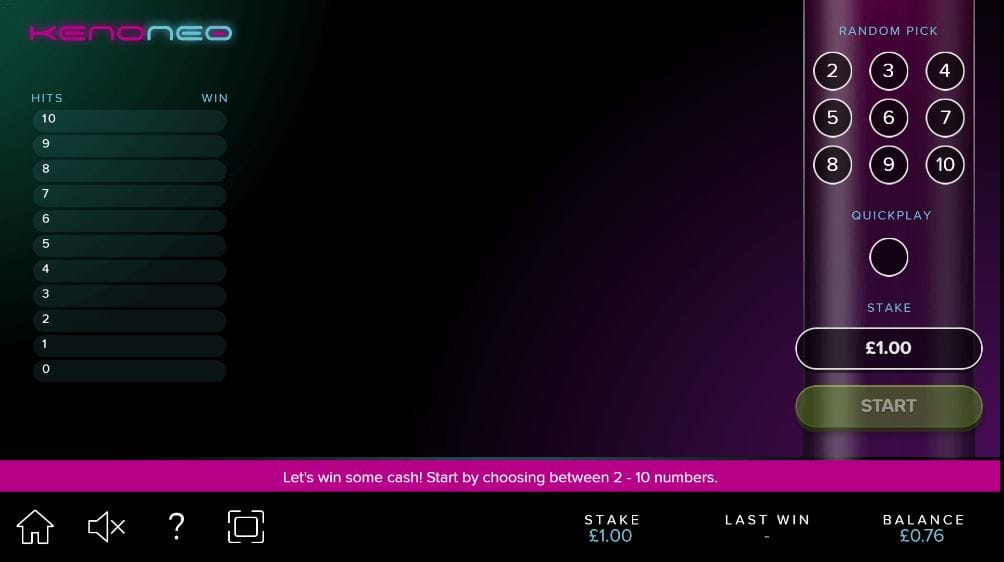 About the Game
The game itself is straightforward for one reason: it's keno. The player selects 10 numbers between 1 and 80. You can select traditional numbers – birthdays, anniversaries, lucky numbers, or use the random pick selector.
When you're ready, you set your wager – the game starts you out with € 2000.00 and you can start as low as € 1.00 and go higher from there. The goal of the game is to guess as many numbers correctly as you possibly can. You need at least three to make anything on your bet and at least four to make your bet back.
After you press "start", the board will begin to highlight the numbers drawn. Anything you match gets highlighted in orange and the "hits" bar on the side, which shows you what you can win for the number of matches you get, will tick up with each match. Anything that's a miss winds up in light blue.
For more free casino games follow the link above!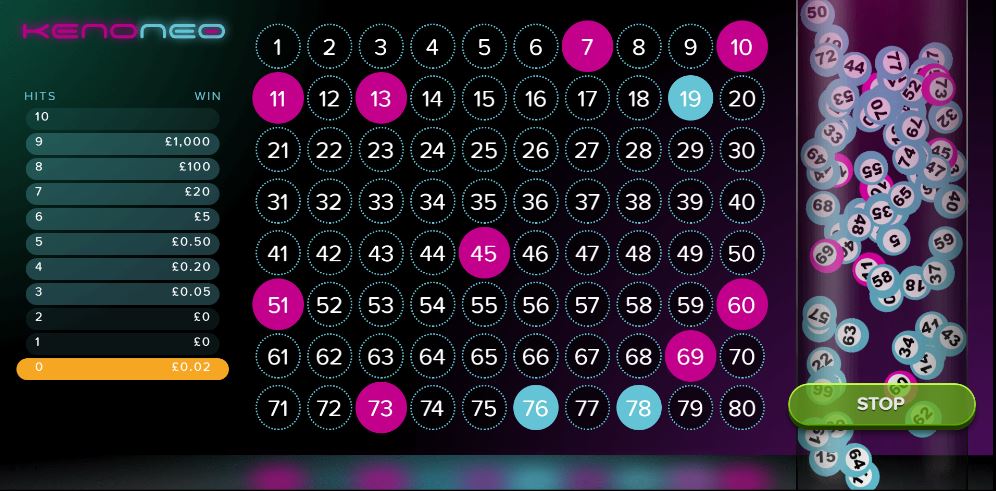 The Verdict
It has the obvious aesthetic value to it: with bright, neon colors, a flashy design and a high-tech feel give it a modern touch whilst still conserving the traditional keno characteristics. You feel like you're in a Las Vegas casino, with the lights and the glamour and the glory.
Keno Neo takes a classic game and puts its own spin on it. Flashy and fun, testing your luck both on random draws and your own patented numbers can lead to hours of fun. Keno Neo is the game you should put your money on! If you don't like this game, why not check out Kaiju Slot instead?