Bonanza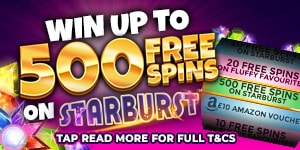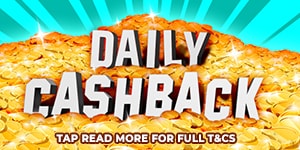 Summary of Bonanza Slot Online
Explore the deserted caves and mine-shafts of the American South! Mine the whole day through on Big Time Gaming's most precious release, Bonanza best online slots! A game where you are not judged on how you look, but the dirt that is under your fingernails. But, will this release increase the reputation of Big Time Gaming?
Is it a diamond in the rough or will the game get off to a rocky start? Read this review and find out! In this game, you can get your grubby little hands on diamonds! This precious stone is also known as ice, a girl's best friend and bling. Diamonds are the most valuable precious stone on the planet. Pound for pound, diamonds are earth's the third most valuable material.
The most valuable is anti-matter and second most valuable is californium. Diamonds are worth a shocking $55,000 per gram! The first-ever diamond was discovered in South Africa, called the Eureka Diamond. Now that is a eureka moment! It was coloured a yellowish-brown and weighed a total of 4.25 grams. Play this on www.megareel.com today!
Quick Links: Legends Of Cleopatra Slot | Jokers Jewels | Dragon Kingdom | Thunderstruck 2 | Mustang Gold | 20p Roulette

Big Time Gaming - the Developer of Bonanza Online Slot
Bonanza was developed and released by Big Time Gaming. They are an online casino game developer based in Brisbane, Australia. This games company has a small library of online slot games as well as a range of free slots games.
Even though they don't have a large portfolio of games, they have created a good reputation in the iGaming industry. Their games possess fantastic visual and audible aspects. This quality is unrivalled by the games of their peers.
Other games they have released include:
Opal Fruits. Taste the sweet delicious opal fruits, in this back-to-basics retro online slots game!
The Final Countdown. It's The Final Countdown. Can you beat it, save the day and win some European riches? Play and find out!
Donuts. Doh... nuts are delicious. Get the right combination and win the riches worthy of nuclear power!
If you like Bonanza, you should also try out Viking Quest and Queen of Riches. To play these games, go to Mega Reel.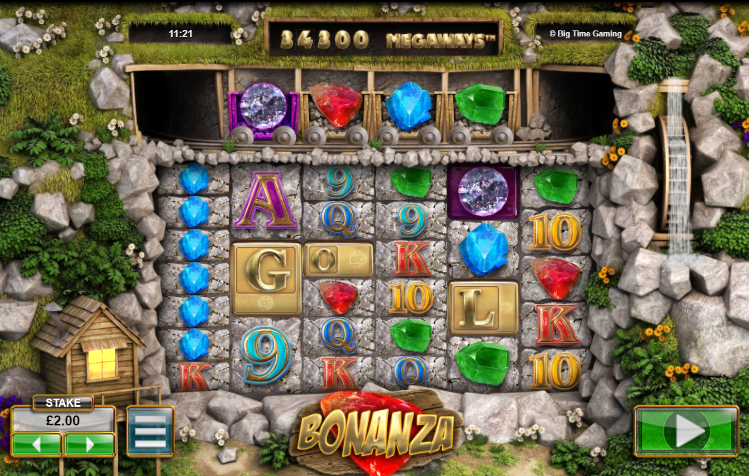 About the Casino Game
This game's design is certainly unique – the actual reels of the game only takes up a small area of the screen. They are pictured as a wall of rock faces. The reels look like they are on the face of a cliff and you will see a very detailed scene around them. Above them is a rickety old train track with a cart full of mined stones and precious jewels.
To the left of the board is a wooden cabin and to the right is a waterfall turning a waterwheel. This design is extremely intricate and the 3D renderings of the stones, plants and flowers look absolutely stunning. There may be just five reels on the board, but there are still an incredible 117,649 different ways to win! As with any slot game, you just need to align the symbols on the reels in the correct combinations.
The lower-paying symbols on the board are your typical play cards. Ace, King, Queen, Jack, 10 and 9. These are bright, bold colours which pop off of the screen. 9 is a blue-tinted iron, 10 is coloured bronze and Jack is green. Queen is coloured ocean blue, the King symbol is red and the Ace is a deep purple.
These pretty symbols are bright against the background of the reels, like a fire in the sky. However, the more valuable, higher-paying symbols are even more exciting. These symbols are represented by precious stones. These include sapphires, emeralds, rubies and flawless diamonds!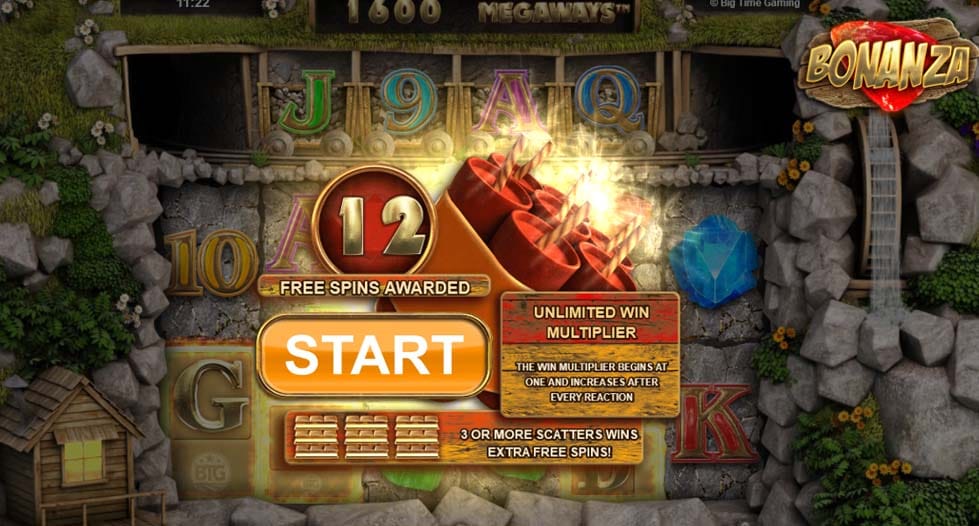 You'll see that the minecart will ride across the screen and bring some extra symbols with it. These add on to the second, third and fourth reel, which can increase your chances of matching symbols up. Some of the icons will help you increase your pay-outs.
• WILD SYMBOL – If a stick of dynamite pops up on the reels, then you've just landed the WILD symbol! This will explode and replace every other symbol except any Scatters that are already on the board. Now that's smashing!
• SCATTER SYMBOLS – There are four Scatters on the board. The letters G, O, L and D. For those who are not good at English, that spells gold. You need to spin all four on the board at the same time to activate the free spins bonus.
These game mechanics are traditional but exciting. We never knew what was going to happen next in this exciting pay by phone casino slot game!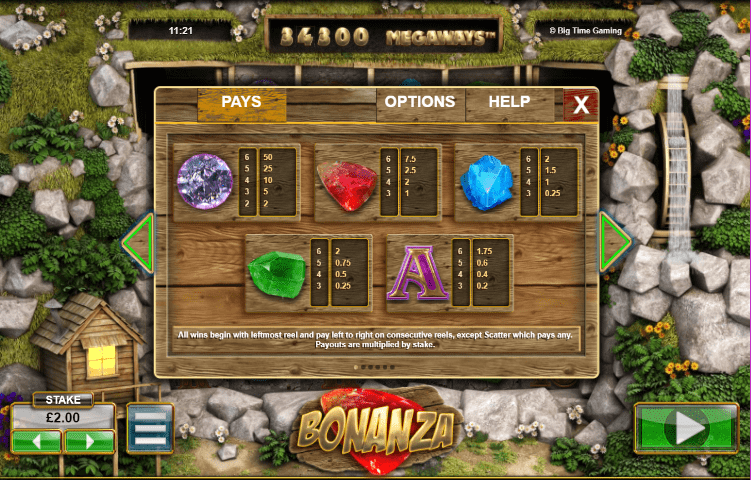 The Verdict on Bonanza Casino Game
Bonanza's quality is rock hard. When we first discovered this game, we knew we had found a diamond in the rough. And, after a few plays through the game, we all agree that this is a fantastic online casino slot game. Newcomers to slot games may have to practice to get used to the game mechanics of this game.
But, the consensus of this game is it is highly rewarding. Every aspect of this game is beautiful. The graphics are stunning and extremely well crafted. The soundtrack and sound effects are brilliantly composed. They are undoubtedly well-suited to the theme of the game.
The gameplay is exciting. There is nothing to criticise in Big Time Gaming's newest release. This will surely elevate the company to new heights, making them big 'time' players in the industry!
If you liked this why not try out Bloopers Slot.