Agent Valkyrie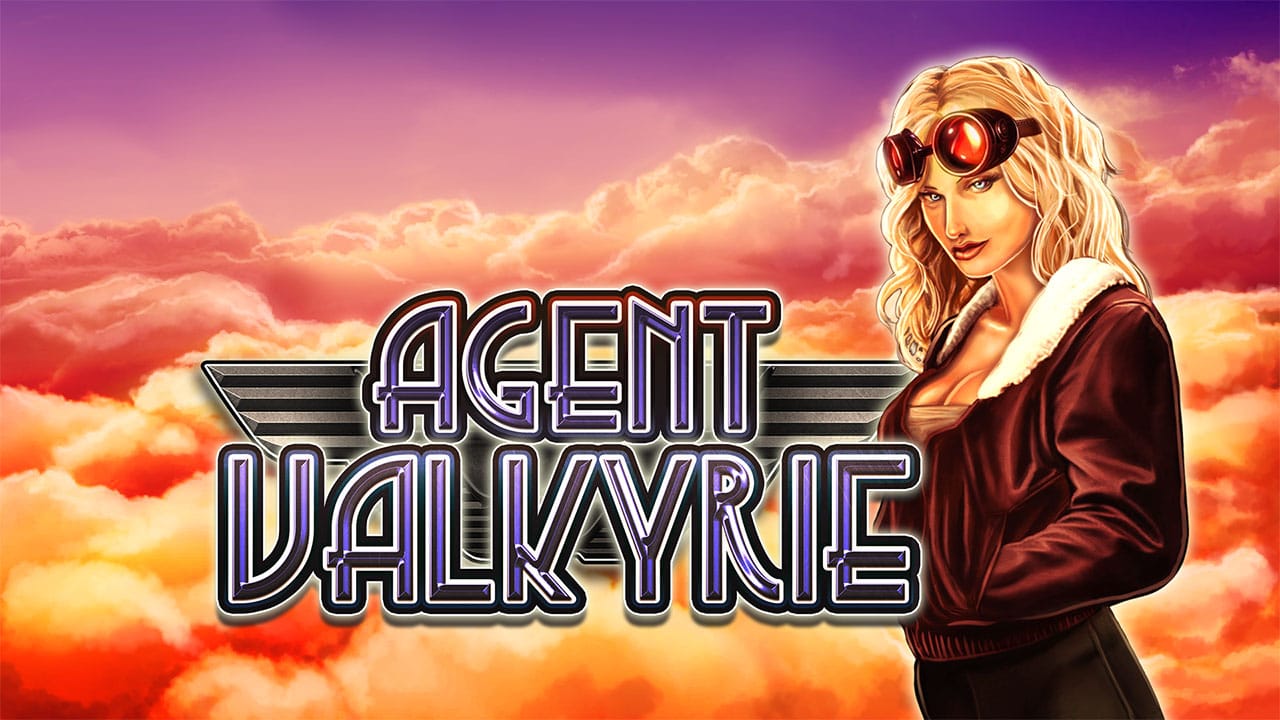 Released in May of 2018, Agent Valkyrie is fast-paced, exciting and as sassy as a slots game can possibly get. Fasten your seat belts and get ready to be put through your paces by a tight trouser wearing, pretty blond with killer moves. 
If you like to solve crimes, are looking for a slots game with a younger, racier Miss Marple, or want to try your hand at being a Detective, then this is a good game for you to try out.
With plenty of fun additional bonus features for you to take advantage of along the way, there is £25,000 for you to lay a claim to as you uncover one mystery after another. But will you make it out of this game alive? Get free spins at the Mega Reel casino!
Quick Links: Legends Of Cleopatra Slot | Jokers Jewels | Dragon Kingdom | Thunderstruck 2 | Mustang Gold | Cyrus the Virus | 20p Roulette

2by2 Gaming – the Developers of the Agent Valkyrie Slot Game
Add up all of the years of experience behind this team and you get over 125 years in the gaming development sector, one way or another. This is a good way of telling that there is very little that this team of well-rounded individuals don't know about gaming.
Located in Chicago, there is an extensive portfolio behind this talented group who have managed to create pay by mobile casino games to cater for needs of many different types of players from the newbies to the frequent, high roller.
What is special about this company is that they are able to hone their skills and create a personalised game to an individual if so desire through the use of bespoke development.
If you have ever played on Aztec Temple of Treasures, Medusa's Golden Gaze, Celtic Goddess, Dreams of Fortune, or Lost City of Incas, then you have already experienced the magic of the 2by2 Gaming team so you don't need us to tell you how impressive they are.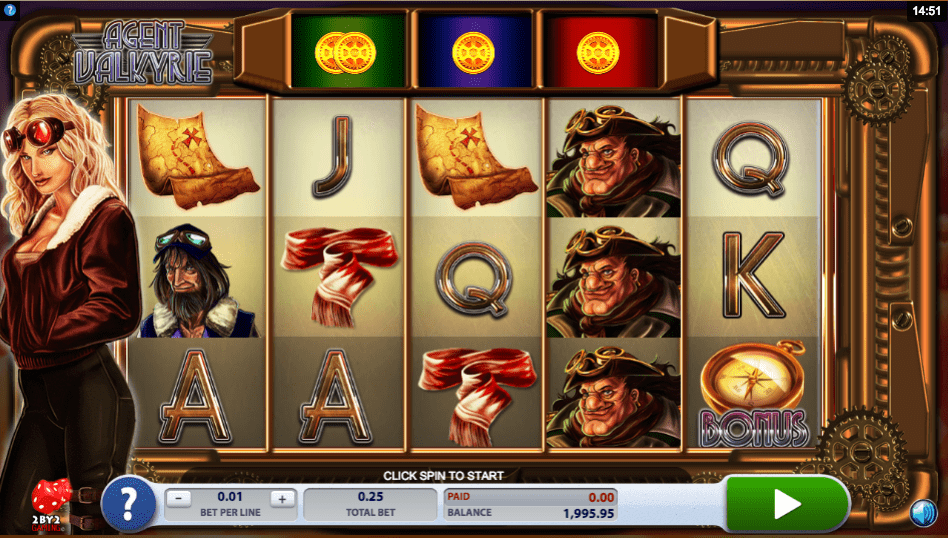 Playing Agent Valkyrie
The exciting online slot game of Agent Valkyrie was released by 2by2 Gaming in May 2018. This is a 5 reel, 25 payline slots game with plenty of bonus features to keep you occupied if you are wanting a slots game that you can play for a prolonged period of time. 
It does not have an overly impressive RTP rate as it is just 96.046% but this does mean that you have a fairly good chance of seeing a good return on your bets. Start placing your bets to play this game from 25p and the maximum bet limit is £25.
There might not be a life-changing value of money at stake when you are playing the Agent Valkyrie slots game but you wouldn't say no to winning £25,000 if you were lucky enough to get your hands on the jackpot.
Agent Valkyrie has already received the Silver Badge Award for the Top250, along with the SlotRank Top125 Award which is a real accolade to show just how much fun players are able to have when they are playing on this slots game.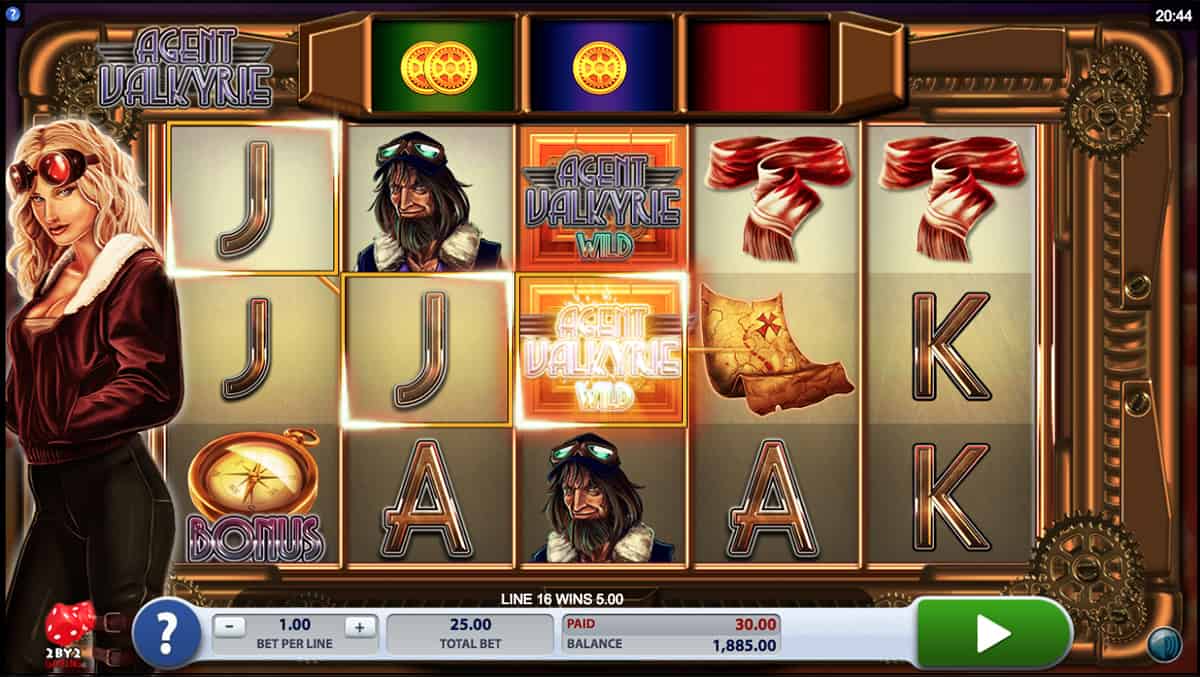 Agent Valkyrie Video Slot Bonus Feature and Free Spins
Surprisingly, there is no symbol on the reels that involves Valkyrie at all, but she will be by your side all the way through this slots game as you face the pirates and other nasty baddies during your playtime. You can look out for the Captain and the one-eyed woman as well as the Pilot with his mane of black hair and a bushy black beard.
All of these characters will appear on your reels, and despite being the baddies in the game, you want them to appear as they will be your key to unlocking the bigger wins. If you are a looking for a way to be able to trigger the scatter symbol then you should try to align some of the kit you might need to be able to fly your plane safely to target the baddies.
These might include your compass, map and scarf, and will help you to be able to instigate some well-earned free spins for yourself. The wild symbol in the game of Agent Valkyrie is that of the games' logo which will be delivered by a plane so keep your eyes peeled for its arrival on your reels as you will not want to miss it.
See if you can collect as many coins as you possibly can across the three middle reels as you play so that you can be in with a chance of triggering the flying re-spins bonus feature. Each of the middle reels represents something different: reel two has the potential for wilds, reel three is for flying wilds, and reel 4 enables you to catch the baddies involved in the game.
This occurs when any of the criminals seen on your reels at the time that this bonus feature is initiated being locked into place. They are then turned in to wilds as if by magic and then you re-spins will begin.
There are so many bonus features in this game to write about but you also have the compass scatter, free spins mission feature, freebies and extra free spins. The options are endless with Agent Valkyrie so don't let the baddies get away!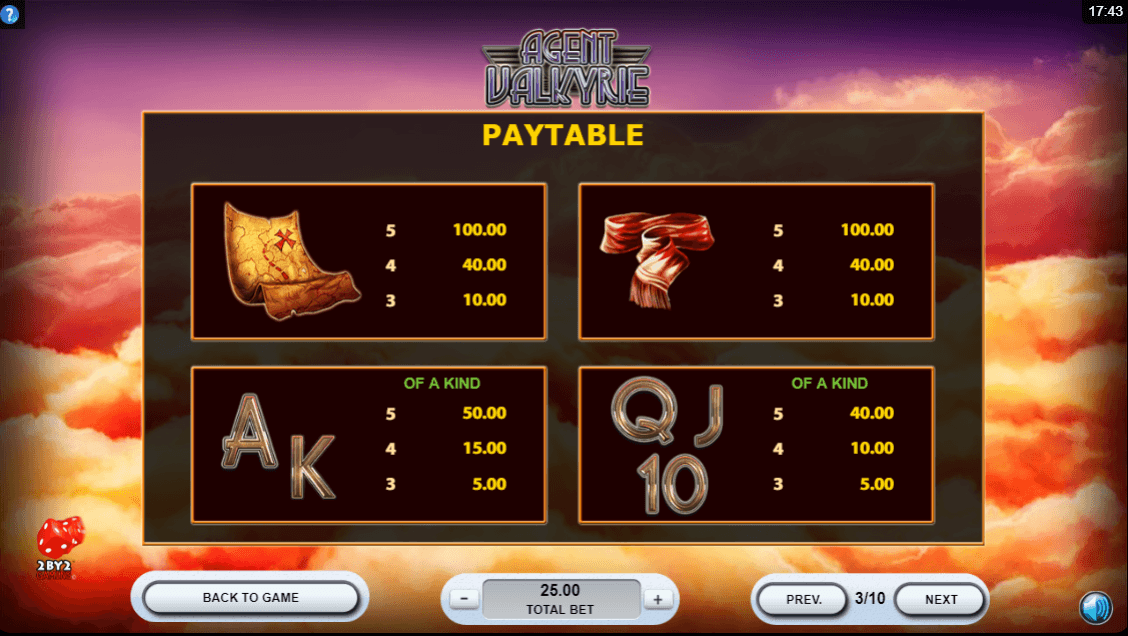 Last Thoughts on the Agent Valkyrie UK Casino Game
This is an exciting, fast-paced and action-packed slot games with so many different ways in which you can increase the fun for yourself through the use of all of the bonus features. With a fairly decent jackpot size, you will have fun playing this game for a decent return and have the potential to win up to 40 times your initial bet just through playing the wild feature to the best of your abilities.
Agent Valkyrie may not have been on the slots market for long but it has certainly made an impact, winning multiple awards already and continuing to be popular with gamers globally. So why not spread your wings, take to the skies and see if you can join Agent Valkyrie on her journey towards catching all of the baddies in your path?
Though they may be criminals, they may just be the characters you want to meet if you are looking for a quick way to earn some cash. Enjoy this article, then why not read my other article, reviewing the Bar-X Safecracker Megaways slot