Mayan Bonus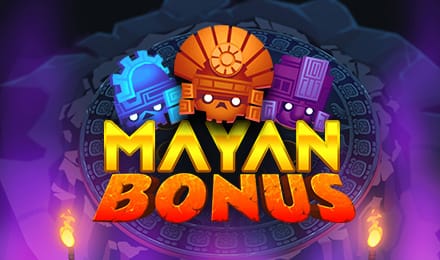 Gamblers better get ready for to uncover the treasures that lie behind masks in the Mayan Bonus slot. Deface the masks to reveal the prizes hidden and they might just surprise you.
You could also end up winning even bigger golden balls that help you win prizes in the bonus game at Mega Reel, where you can find more freeslots. This instant win game could also give you a super jackpot so don't hesitate to play.
Quick Links: Fluffy Favourites Review | Starburst Review | Rainbow Riches Review | Bonanza Review | White Rabbit Slot | Fishin' Frenzy Review

About the Developer
Most kinds of gambling involve a lot of anticipation that serves to increase the excitement and tension of every bet you make. It's not often that you want to deal with that anticipation though. It can be stressful and you just might not have the time.
Instant win games give players an immediate thrill and offer you the same big payouts and great odds that casino games do. They cut off the time by a fraction and save you the grief too.
If you prefer the highs, lows, and thrill of pure gambling as opposed to quick wins, then instant win games might not be for you. It's ideal to learn more today about how to play online slots games before making bigger bets.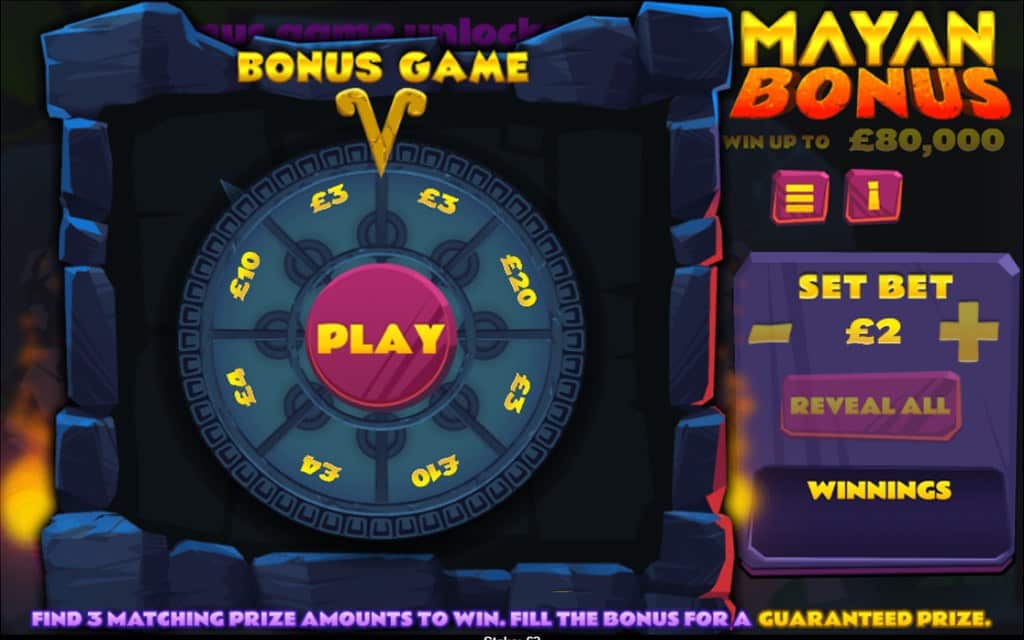 About the Game
Mayan Bonus on-line slots has a colourful, fascinating theme based on one of the oldest civilisations- The Mayans. The masks vary in colours from red, green, yellow, purple, turquoise blue and others. There isn't much in the design sector, but the Mayan patterns and symbols have been presented very well. The goal is to deface the masks with the hopes of landing 3 matching amounts.
If you manage to find a golden ball after defacing a mask, you will fill up one of the slots in the Bonus game. There are 9 in total. You need to collect all of them in order to unlock the bonus game.
This won't be a challenge for you because all the balls collected across the games remain in position for all the games that follow. Each of the 9 masks has a prize hidden behind it. You'll need to reveal 3 similar prize amounts to win that particular amount. The wins are more assured during the bonus game, and by clicking here now you can find more mobile slots.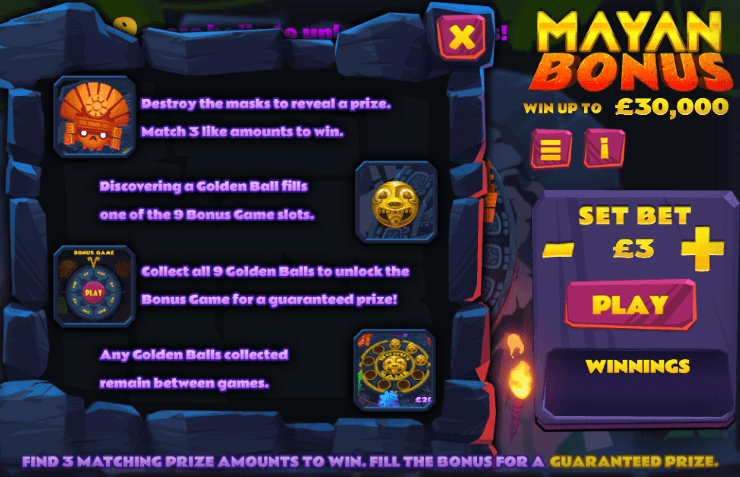 The Verdict
Mayan bonus has a well-executed theme and the bonus game is also a great addition. It's going to be an enjoyable slot for beginners as well as professional gamblers. It's RTP percentage is 89.86%.
The golden balls are undoubtedly the highlight of the slot since they'll earn you a hefty payout and a great bonus. Check out Masquerade slot too!