PopRocks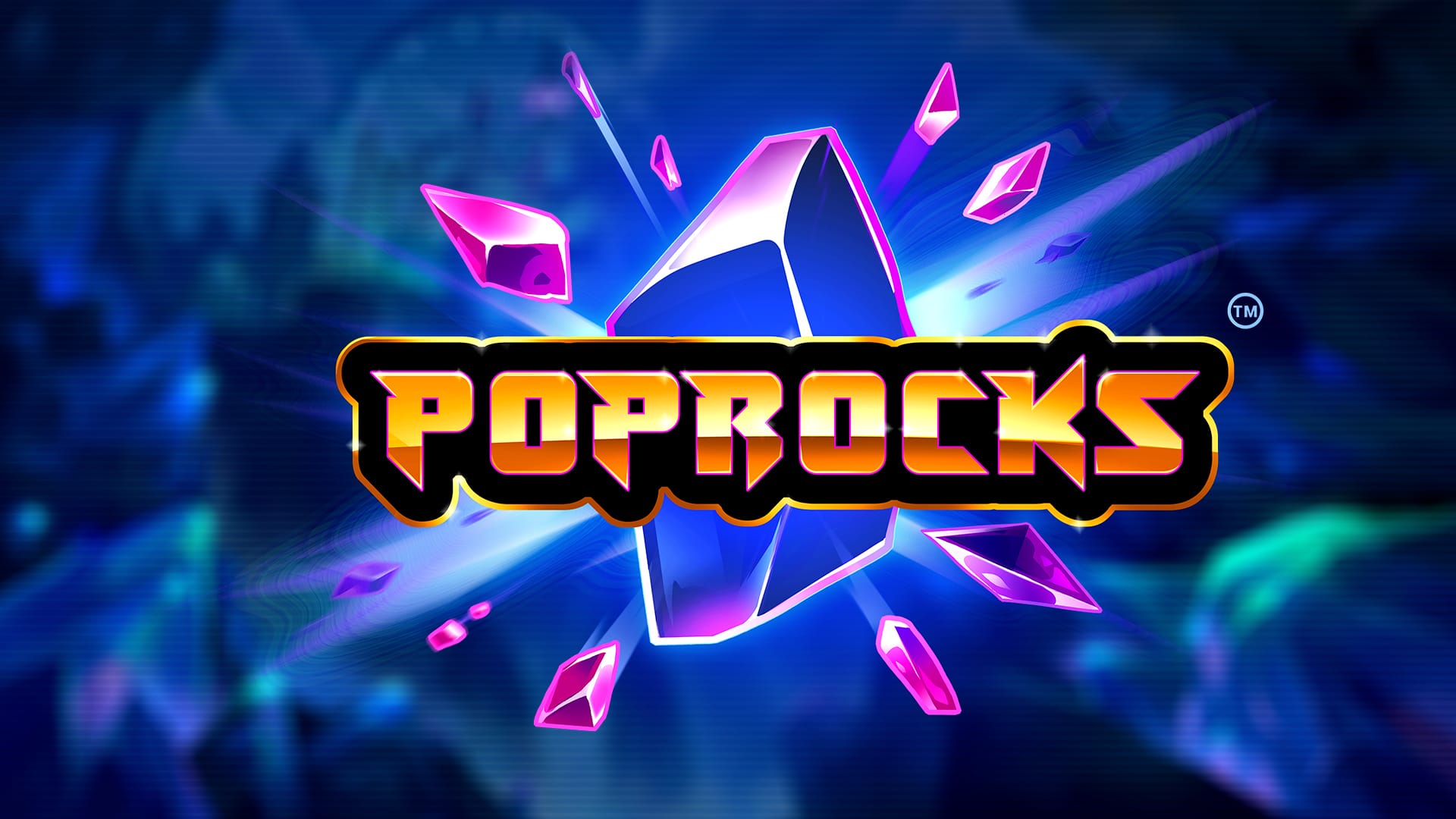 Poprocks is a free spins casino game where you, well, pop rocks. Only the rocks you are popping are gems and they are full of some wonderful prizes.
The pop is actually a great feature in this game, one that separates Poprocks from the other casino slots games on the market.
What is a pop you ask? There are two ways to find out. Play some Poprocks for yourself or read on.
Quick Links: Fluffy Favourites | Starburst | Rainbow Riches | Bonanza | Mega Moolah | Eye of Horus

Yggdrasil Gaming- developers of Poprocks Slots
Yggdrasil Gaming have been in the business of making slot pay by mobile phone casino games for a long time. They have been a part of some of the best slots around and have even dipped a toe in the world of licensed slot games. Perhaps you have tried some of these slots already at Mega Reel, the home of slot games with free spins.
Their impressive back catalogue of slot games includes the likes of:
Reptoids

Jungle Books

Golden Fish Tank

Wolf Hunters

Pumpkin Smash

Empire Fortune
This is already a colourful group. So where does Poprocks fit in? Is it good enough to stand alongside this great Yggdrasil Gaming catalogue of games? Lets' find out.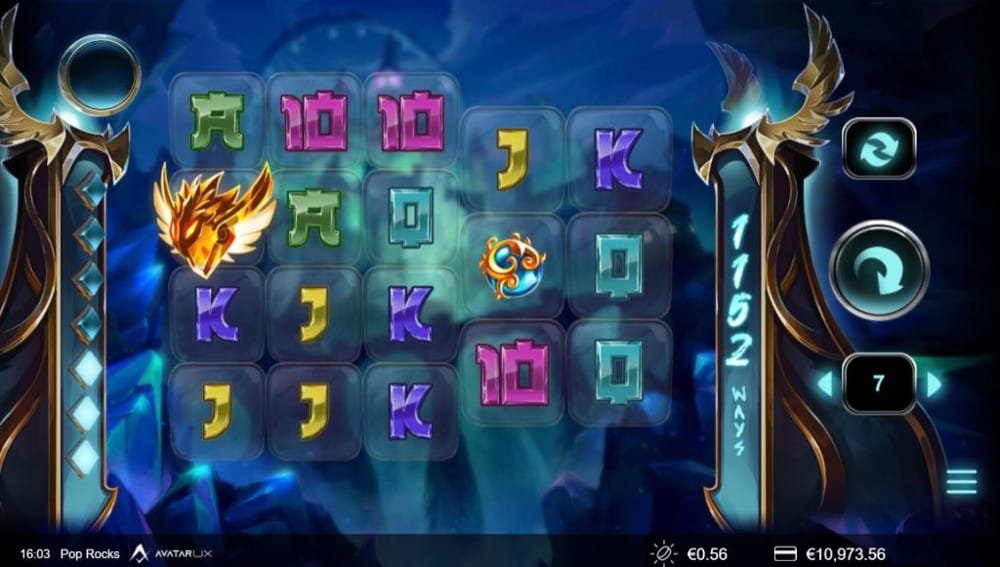 Poprocks Gameplay and Symbols
To play Poprocks slots online, you can bet anywhere between 0.10 and 30 for a spin. There are 5 reels, 7 rows and a possible 33,614 ways to match a pay line.
The aim of the game is to match 3, 4 or 5 of the slot games symbols across a pay line to win. As with a lot of the games from Yggdrasil, these are centred on Asian culture. The low paying card numbers and royals are designed to look like mandarin script.  The A is the highest paying of these as it will reward players with 20x their stake for 5 on a pay line.
Alongside these are the gemstones that come in a range of colours such as blue, green, purple and red. The red offers the highest multiplier for 5 on line with 100x your stake.
That is a wide range of multipliers and a ton of symbol. All this is great in a game like this that has an RTP rate of 96%. You will find only the best slot games on mega reel have an RTP rate this high.
But the main focus of Poprocks is that the gemstones that you match will pop. This pop will cause the one of the symbols to split, meaning that you are left with a 7 reel pay line and the multiplier to match.
That's almost as good as a free spin. Speaking of which.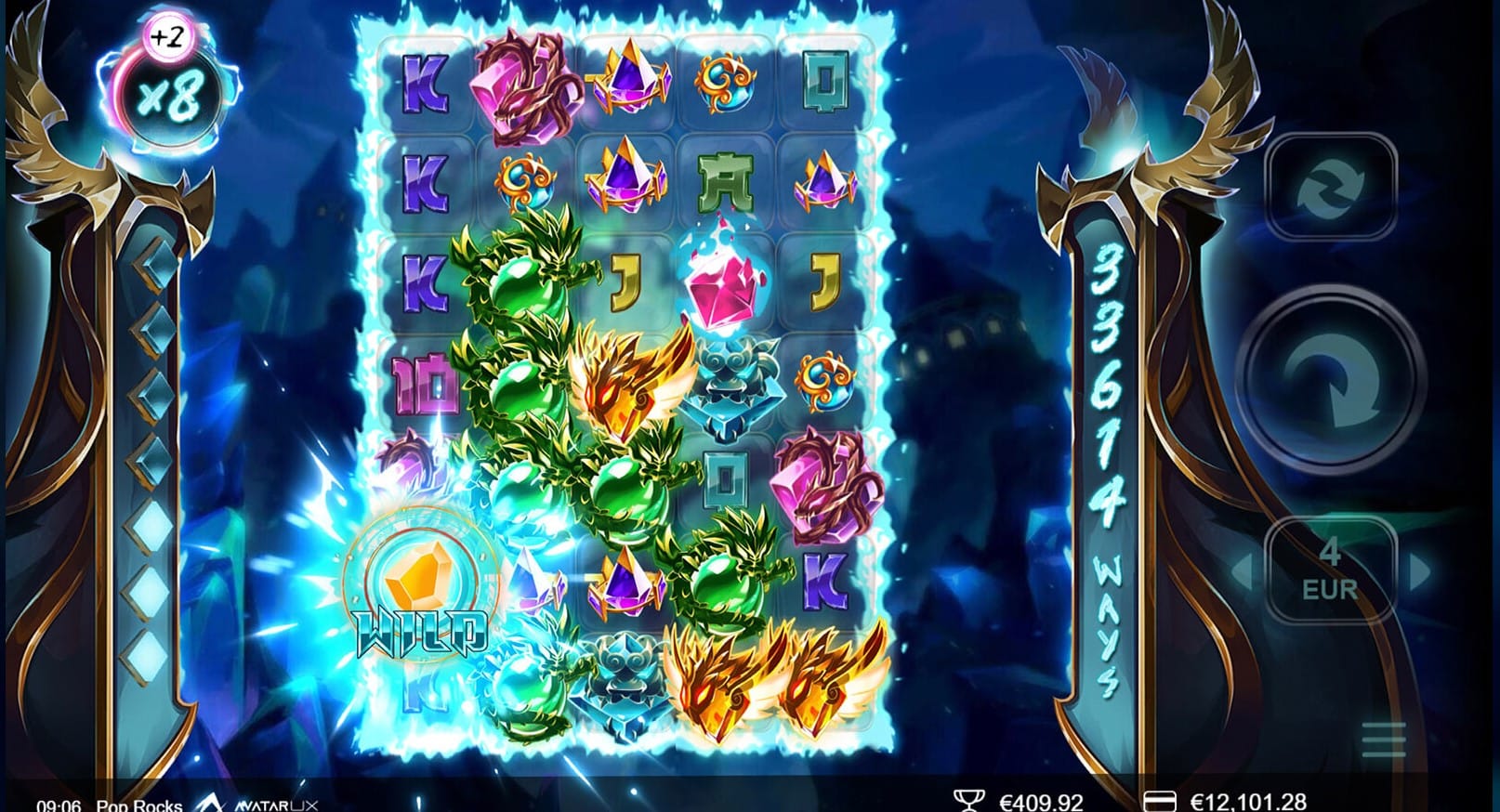 Bonus Features and Free Spins
Well, sadly there are no free spins available with Poprocks. For that you will have to visit mega reel, the home of daily free spins.
However, there is the multiplier feature. This activates once you have earned seven pops. All this means is that you will receive higher multiplier from then on, thus rewarding players for long time play.
Then there is the bonus mode feature. This is activated when the player manages to pop all the rows to contain 7 symbols. When this happens, a random symbol is added to the reels and pops are worth twice as much as before.
Therefore, whilst there aren't any free spins or bonus games, the pops are what is used to add some much needed variety to this slot game.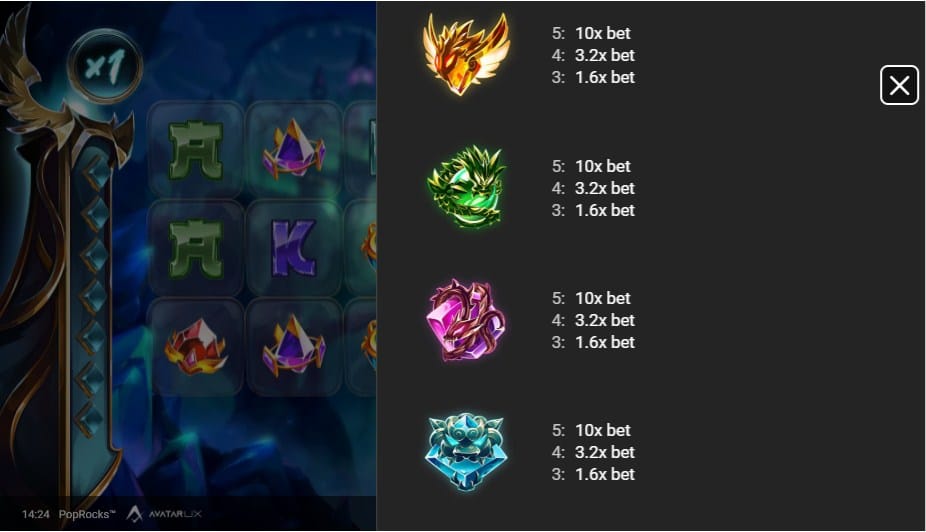 Final thoughts on Poprocks Slot Game
Poprocks is a slot game with a unique concept and one that should be applauded. Instead of cramming in a multitude of different bonus features, this game elects to focus on one feature and uses it to its full potential.
The pop feature transforms Poprocks from a bland slot game to one that stands out from the crowd. From additional multipliers to increasing reels, the pops carry this slot.
Sadly, there are still no free spins on offer here. If you like free spins in you casino games, head over to mega reel, the home of slot games with free spins.
If the lack of free spins does not bother you, then you will definitely enjoy a game of Poprocks or perhaps the Medusa Fortune and Glory slot.