Fortunium


Zap! Blast! Take a trip to the bronze city of Fortunium with this exciting daily freespins. Where the men and women look dapper and every building has a clock tower. The city is beautiful but dangerous, and you must be prepared to survive. So slip on those brown boots, braces and top hat! Let Maximilian and Victoria take you on a steampunk adventure.
Play Microgaming's retro-future online slot game, Fortunium. This is an example of a more uniquely-themed slots game which looks and feels like no other! Find this unique game, and many, many more by visiting Mega Reel. Mega Reel is a Mega Big Deal!
But, can Microgaming really create another instant classic online casino slot game? Players have grown accustomed to Microgaming having consistently strong slot releases. And, obviously, they hope Fortunium will continue to this success. In this article we will put the game under our monocle, then our copper telescope, and finally, our nickel-plated microscope!
Steampunk is a literary subgenre of science-fiction. The term was coined in the nineteen-eighties. However, there are texts which are defined as steampunk which pre-date this decade. This includes texts by the authors H.G. Wells, Phillip Pullman and China Mieville. Steampunk literature depicts a Utopian future society, where technology is advanced.
However, society has a Victorian fashion and style which contradict the technological advancements. There is a large community of steampunk fans who enjoy sharing steampunk literature. However, they also enjoy creating their own fashion, art and music. These have all been created in the unique steampunk style slot games that the fans know and love!
Quick Links: Fluffy Favourites Slot Game | Starburst Slot Game | Rainbow Riches Slot Game | Mermaids Millions | Fluffy Too | Fishin' Frenzy Slot Game

About the Online Slot Developer
Microgaming is one of the most successful online slots online game developers of all time! They are most well-known for their library of online video slots titles. They create uniquely themed casino slot games, with narrative-driven gameplay. They polish their games off with magnificent visual graphics, background music and sound effects. Some of Microgaming's online casino slot games that you may have heard of include:
Mega Moolah. Visit Africa and win the forgotten riches! Discover the beautiful creatures of the African savannah. And, play this epic online casino slot game.
So Much Sushi. Do you like Sushi? Well, play slots with your favourite cold cuisine!
Playboy Gold. Play online slots with the beautiful women of the Playboy mansion. Watch the reels spin up and down. The allure will drive you wild, and take Hef's fortune!
Microgaming holds the world record for the high progressive jackpot pay-out of all time! Mr Jon Heywood earned €17,880,900 ($20,066,800, £13,213,838), on Mega Moolah. This was earned from just a 25p bet! Now that's not a 'micro'-transaction! Maybe Microgaming needs to rebrand themselves as Macrogaming from now on.
To play mobile casino games follow the link above!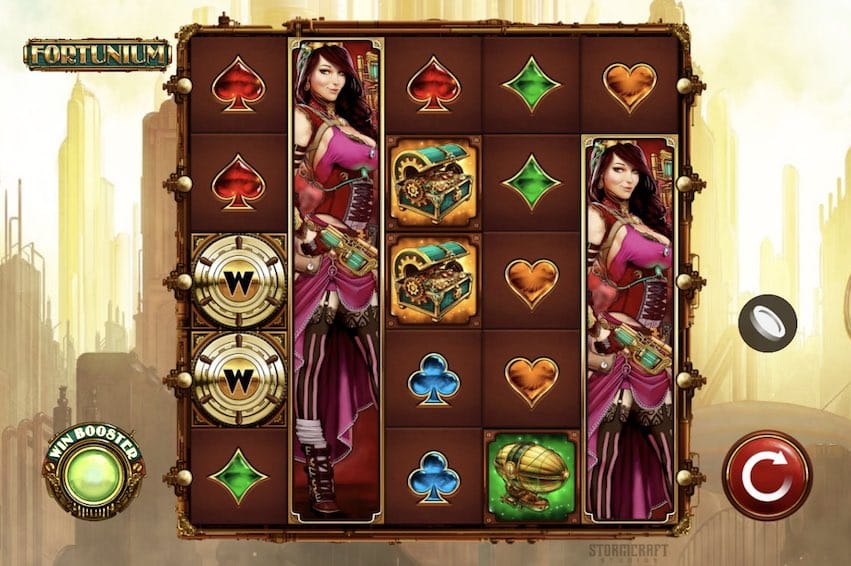 About the Online Slot Game
This is an amazing five-reel, 40-line slot machine! We thoroughly enjoyed playing Fortunium. It is quickly becoming one of our favourite games of the year! You can bet from as small as 0.01 to a maximum of 0.50. And, you can have between one and 25 coins per line, giving you a maximum wager of 187.50 per spin!
The lowest paying symbols are represented by the traditional playing card suits. This means you have blue clubs, orange hearts, green diamonds and blue spades. In terms of the higher-paying symbols, they are represented by beautiful steampunk illustrations. This includes genre tropes, such as plasma guns, airships and treasure chests.
There are also the game's two characters, Max and Victoria. They represent the most rewarding symbols. Both characters are stacked 5 high, with all other symbols appearing double stacked. There's also a wild symbol that will occasionally show up on the reels. This has the ability to replace all the other symbols apart from the SCATTER.
One of the more exciting aspects of the game is the feature of Mystery Symbols. Although, you never really know what you're getting when they activate. The Mystery Symbols feature will randomly reveal one of the low, high or wild symbols, randomly on the reels. You will be able to create more combinations, and receive unexpected rewards!
There is also the ability to press the Win Booster button. This exciting feature will increase your wager. However, it can potentially give you around 50 percent higher winnings! In addition, the Free Spins Bonus is a fun aspect of the game. You can gain up to 10 free spins! You do not need a hundred clock towers to tell you the time here. It's time to pick up this great game and play the aerodrome out of it!
The graphics on this game are stunning. We loved the illustrations of the city. The golden streets, bronze building and shimmering silver lampposts, make this city picturesque. We love the designs of Max and Victoria. Max is dressed in a maroon top-hat and jacket.
He is wearing an emerald encrusted waistcoat. he sports a twirly moustache and goatee! Victoria is beautiful. She wears maroon cuffs, with a pink tank-top. She wears a golden, emerald encrusted headdress, and carries and matching ray-gun. These character designs are pretty and unique looking.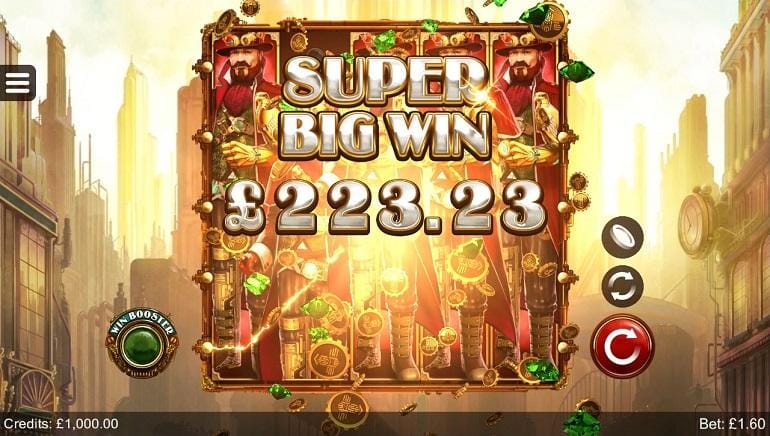 The Verdict on Fortunium
This is an amazing casino slot game. We loved the stunning graphics and visual designs of the game. The gameplay is exciting and fast-paced. You really never knew what is going to happen next. This more than lives up to expectations we, personally, had of Microgaming.
This exceeds any other release the online casino games developers have had. We recommend you play this game and immerse yourself in this unique universe. If you like this, why not also try Fortunes Prophet Slot?