Arctic Valor


All gather round, prepare for the worst, the frostiest game in the universe! Discover the Valkyrie caves, and get ready to loot them dry! Masses of treasure await you, young traveller. In Crazy Tooth Studios' coldest release, Arctic Valor!
Crazy Tooth Studios have an unbelievable portfolio of online casino slot games. And, in this release have teamed up with iGaming legends, Microgaming. Will this new relationship be helpful, or destructive to both developers reputations? Read this article and find out.
Valkyrie is a type of female spirit warrior in Norse mythology. They decide who will live and who will die in war situations. Additionally, they are Norse symbols of beauty and sex. They inhabit the afterlife hall of the slain, Valhalla. These Valkyrian figures have been the inspiration for thousands of years worth of beautiful artwork.
They are often pictured with specific animals such as ravens, horses and swans. These great works include modernist paintings, Led Zepplin's 'Immigrant Song' and statues of the romantic period. But, now they brace the world of online casino gaming. Arctic Valor is here! Play this, and more, at Mega Reel free spins casino
Quick Links: Fluffy Favourites Slots Game | Starburst Slots Game | Rainbow Riches Slot | Mermaids Millions Slot | Fishin Frenzy Slot | Fluffy Too 

About the Online Slot Game
This is an amazing mobile casino game. It is a 6-reel, 4,096 different ways-to-win online casino slot game. And, let us not forget its generous 96.7% RTP! Wowzer! That is one chilling deal! We are frozen with excitement.
This game can be a that can be paid with a minimum bet of 0.15 and a maximum bit of a frosty 150! This is an impressively wide range of bet amounts for an online casino slot game! So if you want to play for big bucks, or just for fun, this game gives you options, options, options.
Do you want to build a snowman? Well, hurry up let's go and play Arctic Valor. This game will give you a complete lifestyle change. You will want to live like a Viking warrior! The Arctic is a polar region, which is located in the northernmost part of the planet. This area is home to many different, unique animals.
This includes seals, polar bears, walruses, arctic foxes and reindeer! The Arctic itself is a frozen white desert. Soon the arctic many are completely destroyed because of global warming. But, but worry, its existence will always live within the online casino slot game, Arctic Valor!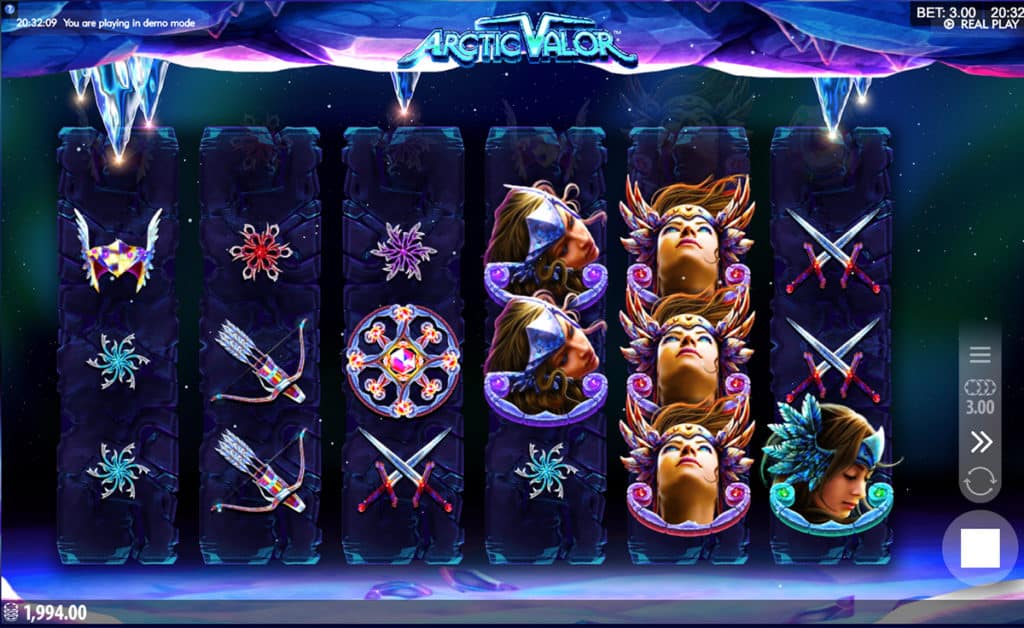 The games visual design is one of the most beautiful free slots games we have ever played. In the background, you will see the beautiful world wonder, the Northern Lights! What a sight. The game's graphics have a beautiful retro look.
Which is not too dissimilar to that of the Sega Megadrive or the Super Nintendo Entertainment Systems. We really enjoyed this simplified pixelated design. It looks amazing.
In Arctic Valor, the lower-paying symbols have beautiful legitimate Norse emblems. They are fantastically designed. There are also higher paying symbols, which are beautifully illustrated. These include Nord iron shields and real Viking war helmets!
Our personal favourites are the Valkyrie glass bow and swords. These images are carefully composed. Crazy Tooth Studios have clearly done their research and put a lot of effort into creating the symbols within this game.
Audio compositions and effects in this game are fabulous. The soundtracks sound like songs in huge Hollywood productions, like Game of Thrones and Lord of the Rings. The other sound effects are also great, a pleasure to the ears. Keep up the good work. It took us back in time, to the Viking invaders! Scary but exciting.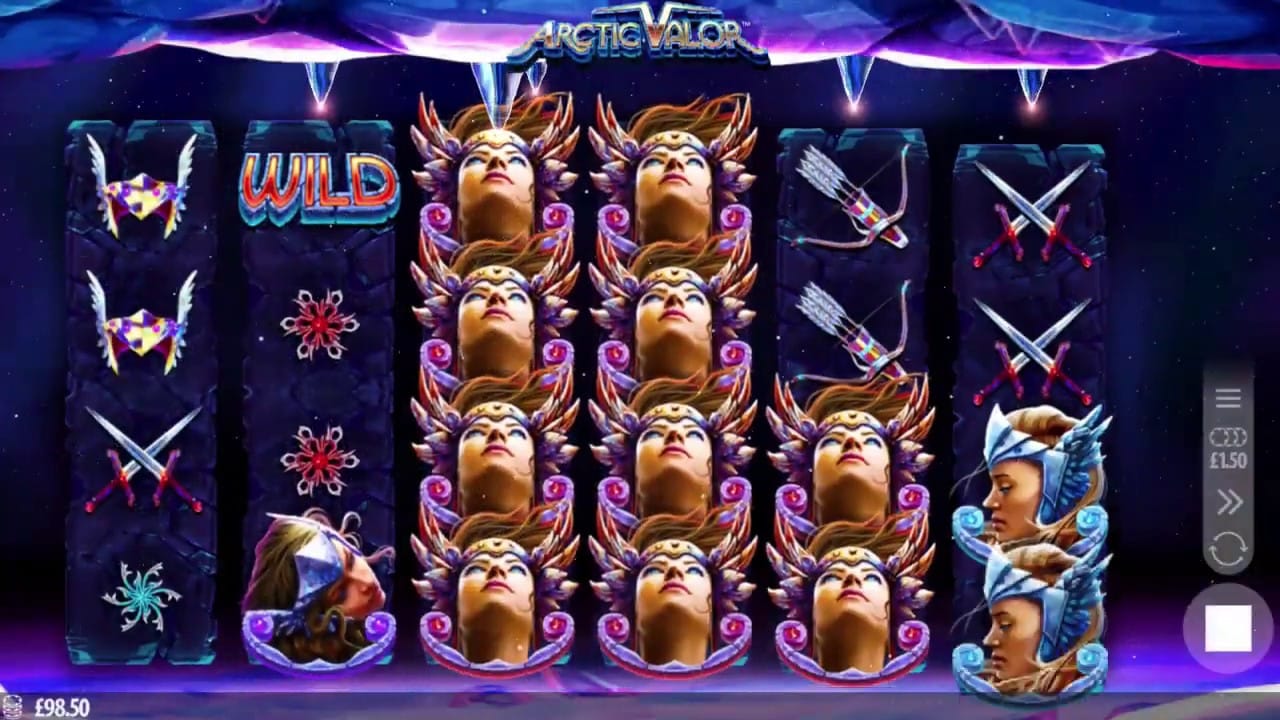 About the Online Casino Developer
Crazy Tooth Studio was founded in 2011, which is a lot longer ago than it sounds! Their headquarters are located in Reno Nevada, very close to Las Vegas, the gambling capital of the world! They are currently a small company and have just a couple of games available. You may have heard of them, they are Arctic Valor and Queen of the Crystal Rays.
But, like the pyramids, Arctic Valor was not created by one set of hands. For this title, Crazy Tooth Studios and Microgaming co-produced this game. Microgaming are giants of the online casino gaming industry. They were founded in 1994. Their titles are among the most famous in the genre. They are famous for breaking the record for the most pay-outs in online casino gaming. Their record totals over €948 million (£852 million) worth in progressive jackpots. Not so micro after all.
They are the creators of many popular online casino games. Their library of titles includes Mega Moolah, Lotsaloot and Major Millions. Another record they hold is for the single biggest online casino pay-out. This was won on their game Mega Moolah. This jackpot was €18,915,872.81 (£17,000,167.79)! What a ridiculous win! The record breakers are a great big company for Crazy Tooth Studios to learn from.
play online slots on Mega Reel!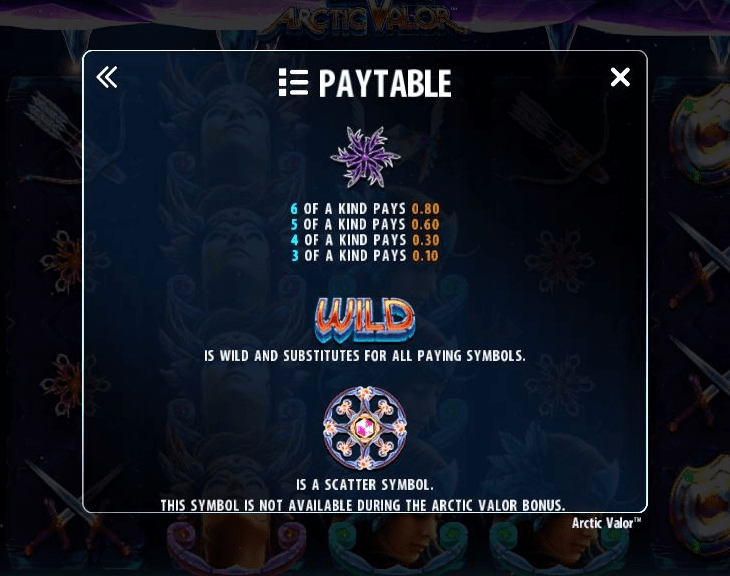 The Verdict on Arctic Valor
This is possibly the greatest Norse themed online casino slot game of all time! A really fantastic release. Crazy Tooth Studios should be extremely proud of this game. It is immensely fun and extremely cool.
We loved the icy visuals and beautiful array of sound within this game. A really action-packed adventure game lies within the traditional online casino slot game.
We especially loved the beautiful illustrations of the alluring Valkyrie warrior women! These are images you will never forget, like a snug woolly mammoth! The Norse armour and weaponry is brilliantly designed!
We wish the game did merchandise, so we too could look as cool as the Norsemen and women of Arctic Valor! Try the Ted slot while you are here!