For decades now, the issue of people becoming addicted to gambling has put a consistently negative image on the industry. Particularly in Scotland where it is believed socially that the majority of gamblers are simply playing because of addiction. Here at Mega Reel we want to find out if that is the truth. So, we done some of our own research, to find some statistics on the issue. Letting you know once and for all if there is a real issue with people playing free slots games too much.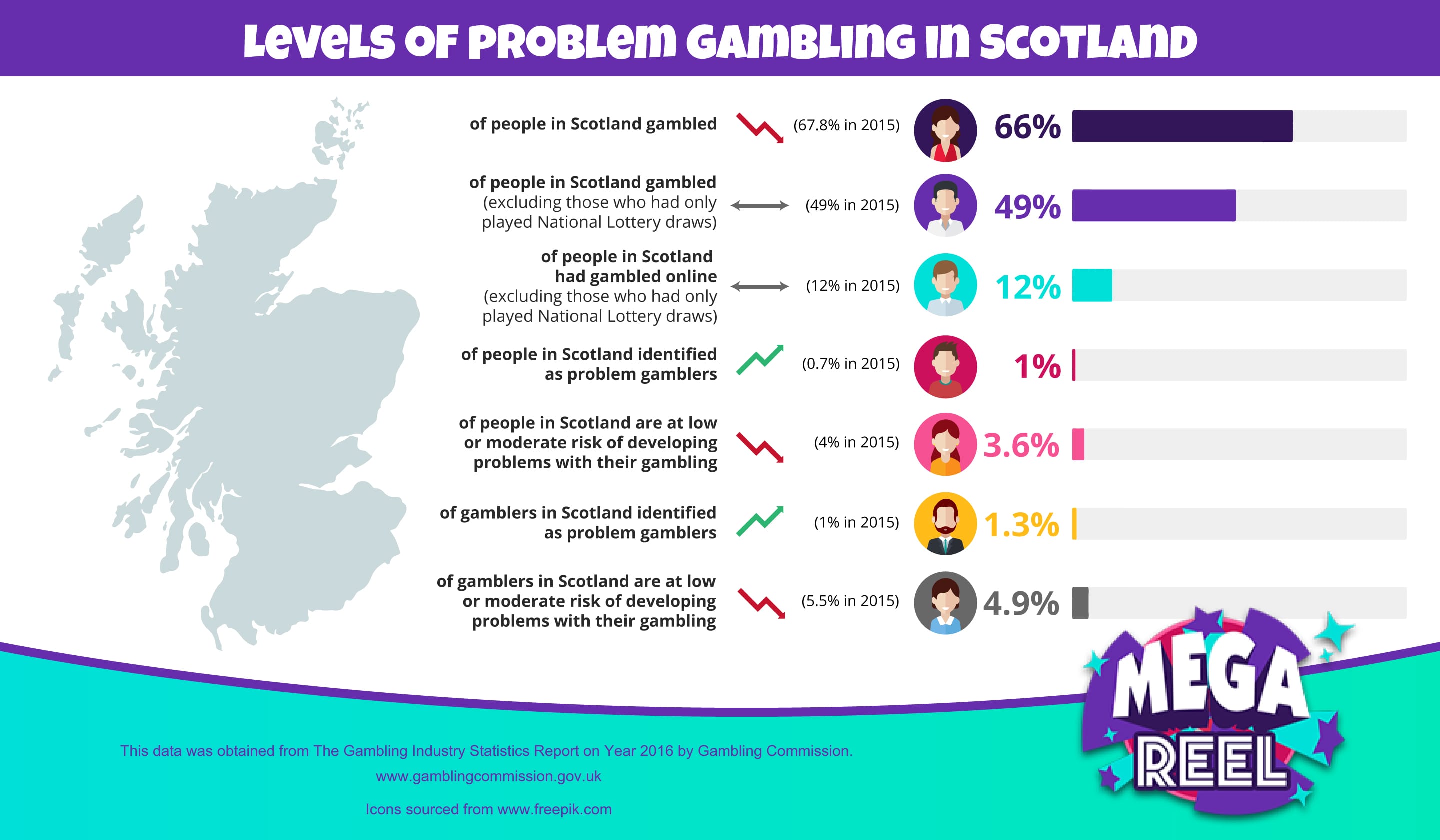 Casino Facts & Figures
You might be surprised to know that over half the people in Scotland actively gambled in 2016, totalling a whopping 66% of the population. This was a figure that had actually decreased on the previous year too by -1.2%. Additionally, a total of 49% had gambled excluding those who had only played National Lottery, a figure unchanged on the last year. With just 12% of these having gambled online. This also suggest despite the rapid growth in online gambling the majority are still gambling in-store.
The facts on problem gambling showed 1% of Scottish people identify as having a problem with gambling. Whilst this is still super low in comparison to the percentage of people gambling, it is actually a stat that has risen by +0.3%. This trend repeats itself in the total number of actual gamblers who identify as being addicted or having an issue. Which has risen from 1% the previous year to now being 1.3%.
However, in contrast, the number of people in Scotland at low to moderate risk of developing a problem gambling has fallen by -0.4% to just 3.6%. Also, this is the same for the known gamblers in Scotland, who saw a decrease in this same category of low to moderate risk, from 5.5% down to 4.9%. So, this area is certainly showing improvements.
The Verdict
Overall, these statistics show problem gambling may not actually be as big of an issue as people may like to think it is in Scotland. As the levels of problem gamblers is relatively low, although for the future of gambling we need to continue to lower these levels as low as we possibly can. As being addicted in any form to gambling is not a positive approach or outlook to have. To find demo slot games to play for fun click the link above!