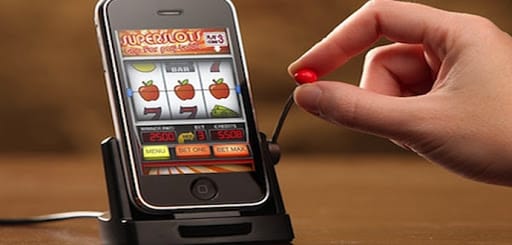 Pay by mobile casinos are fast becoming a trend, but the history of its origin goes back to almost three decades ago. In this article, pay by mobile casino and mobile slots will be explained, starting from its history, to how you can benefit from them. If you are convinced enough to try it out, then Megareel will be waiting to give you the experience to remember with some of their free daily spins!
History of pay by mobile casino

The first time something like paying for free casino games over the phone was recorded, it was in the 1990s when punters placed calls through to sportsbooks and made a payment over the phone. Now, nearly 30 years later, the switches have been flipped, and you don't need to call up the casino and feel anxious. 
Instead, with pay by mobile casinos like Megareel, you can use a smarter payment option to top up your casino bankroll. When it comes to pay by mobile casinos, two basic distinctions must be made about the medium of payment. First, there are specific mobile payment options, like ApplePay, for example, but these are restricted to particular countries. Secondly, if you monitor the industry closely, you'll find out that many handheld devices let people place a deposit instantly – without the need for any specific option of payment.
Pay by Mobile Casino Sites and Online Slots
You may be worried that if you opt for pay by mobile casino sites, there won't be as many games. It is not a fact! There is a truckload of slots to try out. You will still get the great games created by top content creators like NetEnt, Play N Go, Microgaming, Yggdrasil, Scientific Games, Worldmatch, and many others. If you are looking for more than just slots, you will get access to other casino games. Also, an online casino that uses the pay by mobile option of payment presents you with a more straightforward way to manage your set bankroll. The payment and experience will again boil down to the normal games, as in 3D Slots, Video Slots, i-Slots, Progressive Jackpots, and Fruit Machines.
However, instead of you having to navigate a seemingly difficult banking panel, you can just tap on your preferred mobile payment option and deposit – or even withdraw. Even if the payment method you opt for is not specifically designed for mobile, you will be given access to e-wallets and other options of banking.
Why you should opt for Pay by Phone Casino
There are specific upsides that set such casino sites aside. Most people who have tried them cite security and convenience. Still, it is vital to remember that the same way financial data can leak, so also phones can be exposed. You never want to have your phone number cloned or leaked, because this is even quicker access to your bank account.
This makes pay by mobile casino sites much better. With these sites, even if your phone were stolen or leaked, your bank information – whether it's a bank account or an e-wallet would remain entirely safe. 
Secondly, there is an automatic mental deterrent. While you might find yourself spending too much on a casino, there is an unlikely chance that you will spend too much on a phone bill. Phone payments make it more straightforward to track your total expenses, and your financial data will remain anonymous.
All of these may seem like very mild advantages, but they surely add up. Knowing that you can play games by depositing almost "remotely" from your preferred casino makes if more difficult to crack your financial data – if at all. 
How pay by Mobile Casino works
You can choose to pay by call vouchers or simply keep playing and foot the bill at the end of each month with your telecoms provider. To make sure that you keep track of how you spend, you can opt for a top-up SIM card. Once you have a phone that works, you can pay by mobile into your Megareel account without any form of internet connection.
People who have adopted this method of casino payments are the least likely to become problem gamblers. Indeed, this is an advantage for people who are looking for the best ways to keep their spending in check.
Pay by Phone Casino Licenses
Just like with any other regular casino, all pay by phone casino websites is subject to strict regulation. The reason this is done is to ensure that customer is safe and protected. Any violation of a license would lead to legal actions, which is why these casinos must comply and remain transparent.
But even better, punters can rest assured that with a license there would be more favorable gaming conditions and benefits such as Bonuses and RTPs
Transparency 
A license for casinos is designed to help you play at peace without worrying about SSL encryption and the general safety of the casino. What this does, in turn, is that it lets you pay attention to your own gaming. Companies like iTech Labs and eCORGA are there to ensure that all payout rates are in line with the stated rates. This will surely help you feel much more confident when you play at Megareel. 
Play Pay by Mobile Casino Games on Your Smartphone
Just the same way you can make a deposit into your account via your phone, you can also play games on your phone. All the games on Megareel can be played on mobile, so whether you use iOS or Android, you will find a great assortment of games to enjoy. 
Mobile Slots Bonus Offers
All bettors are on the lookout for opportunities to bet with little or nothing, and cashout massive amounts. This is why bonuses are one of the best ways to spot a good online casino. When you play at a pay by mobile casino like Megareel, all the bonuses that you deserve are made available to you and other punters. So you do not only have a more secure deposit method at your fingertips, you get to enjoy extra benefits and freebies. However, remember to check Wagering requirements, Deadline, and Games featured before you use bonuses.
Final thoughts on pay by mobile casino explained
We hope that you understand how pay by mobile casino works, and what you stand to benefit as a punter.  Now you can try Megareel casino to practice what you have just learned.