2019 has been a very successful year for free spin slots uk with a wide variety of games having been made available with high-end graphics, interesting themes and plenty of bonus features. Some of the best slots games of 2019 have been released this year, whereas others have made a comeback from years gone by. Nevertheless, all of the following games have made it into the charts for one reason or another, so why not take a look and see if your favourite game has made it into the best slots games to play in 2020 list.
Age of the Gods
Playtech released the game of Age of the Gods recently and it has been a great success. Having made it to number 20 in the Slotrank chart, the ancient Greek style game has something for everyone to get excited about. With Zeus, Hercules and many more infamous Greek odyssey characters for you to meet, you need to hope and pray that the Gods are on your side as you play this game because there is such a great prize at stake. This is a medium variance slots game with a 95.02% RTP and offering you a chance to be able to win £1 million. Start placing your bets from as little as 20p on this 5 reel, 20 payline slots game filled with many familiar faces. The Age of the Gods has impressive graphics, fun sound effects and is really capable of drawing you into wanting to play for long periods of time because it is so much fun.
There are four different jackpots available for you to win in this game and they are all linked to the four different levels of power related to the Gods in play. The symbol with the greatest value is that of the golden laurel leaf and aligning five of them will ensure that your initial wager is multiplied by 10,000 which will equate to substantial cash. A fun bonus feature of the Age of the Gods slots games is that of the Pantheon of Powers which can be triggered easily when any God symbols align as long as there are five of them aligning at the same time. Doing so will enable you to multiply your wager by 200. For other ways in which you can increase your winnings, look out for the helmet icon, the Age of the Gods game logo and the Greek letters.
Take advantage of any free spins you may encounter and choose your own feature game by deciding which God will help you on your path to success. Each of the Gods has a special feature that they offer so there is something different offered by each one. One offers extra free spins, whilst other Gods offer the opportunity for you to be in receipt of wilds, extra wilds, multipliers and even extra reels. The only way for you to find out which of these bonus features you are entitled to is to choose that God. Until then, there is no way of knowing what your chosen God has in store for you as your special bonus feature in the Age of Gods slots game.
Cleopatra
This is an Egyptian style slots game that has remained popular for around seven years thanks to its enormous jackpot winning potential, fun theme and large numbers of free spins available to players. These are just some of the reasons that this slots game has ended up being at Slotrank number 4 and having been given the Top 10 Golden Badge award. Since its release in 2012, Cleopatra has developed an impressive following and despite this slots game not having many of the futuristic features that we see today, it remains as popular as ever with gamers. Cleopatra is a medium volatility slots game and has an RTP of 95.7%. 
As you may probably have guessed, this slots game is based upon the ancient Egyptian Queen who was also the supposed last pharaoh. If you are able to align multiple symbols of the main lady herself, you will be in with a chance of winning £25 million on this 5 reel, 20 payline slots game. This is a classic style game with the main attraction being the size of its available jackpot and the number of free spins available to its players as there are not really any other bonus features, but this has not stopped IGT being so hugely successful with this slots game. Players are able to place their bets from as little as 20 all the way up to £100 should their bankroll allow, so that they can see if the Queen of the Nile will grant them the opportunity of winning big. Cleopatra's appearance will enable your winnings to double and if you are able to align a minimum of three Sphinx symbols then you will receive the appropriate number of free spins. The most free spins you can receive at any one time in this slots game is 15 and anything that you win during this time will be tripled. This means that already big winnings can turn in to enormous winnings very quickly. For the biggest prize of them all, see if you can land a scatter feature and gain 180 free spins and triple all of the money you win in this way, too.
Double Bubble
Although this slots game has been around since 2006, it still remains popular with gamers all over the UK thanks to its light-hearted approach to free spins slots gaming. It is a very simple game with a very fruity theme offering players a chance to win £2 million. With all of the most popular fruit slot games icons on offer, take your pick from the grapes, watermelons and cherries on offer to you and see which is the most financially rewarding fruit within this game. A game of mid volatility, Double Bubble has 5 reels and 20 paylines combined with an RTP of 96.02%. It is an attractive game to players with bankrolls of all sizes because spins can start from 1p and the largest bets you are able to place are £100.
There is lots of fun to be had whilst playing Double Bubble and with so many bonus features to take advantage of, it is easy to see why gamers can't resist coming back time and time again for more fruity action. The Double Bubble icon is the wild in this game and aligning five of these will see you gain a 20,000 multiplier of your original wager. If the symbol of BB appears on the first, third or fifth reel, then you could be in with a chance of playing the Bubble Bonus game which is another great bonus feature of this slots game. Here, you will be presented with three different balloons and you can choose which you would like, revealing the prize within it. The prizes are all multipliers but of hugely different values and will make a massive difference to your winnings. More bonus features within this game include the substitution symbol, scatter and multiple different multipliers. The way to win the most impressive cash prizes is to see how many of these bonus features you can combine every time you play Double Bubble – obviously, the more bonus features you combine, the better the outcome for your bank balance!
Gonzo's Quest
Based on the historical explorer, Gonzalo Pizzaro, Gonzo is a friendly character designed to help you get as much out of this game as possible. Your aim is to uncover the lost city of gold by helping the bricks to tumble and aligning as many of the same symbols as possible to increase your winnings. Use the 5 reels and 20 payline options to be in with a chance of winning sizeable cash prizes throughout the game and see if you can open the golden gates to the big multipliers as often as you can. Gonzos Quest is a very addictive game from NetEnt with a great storyline, high-end graphics and a very lovable character to help steer you in the right direction.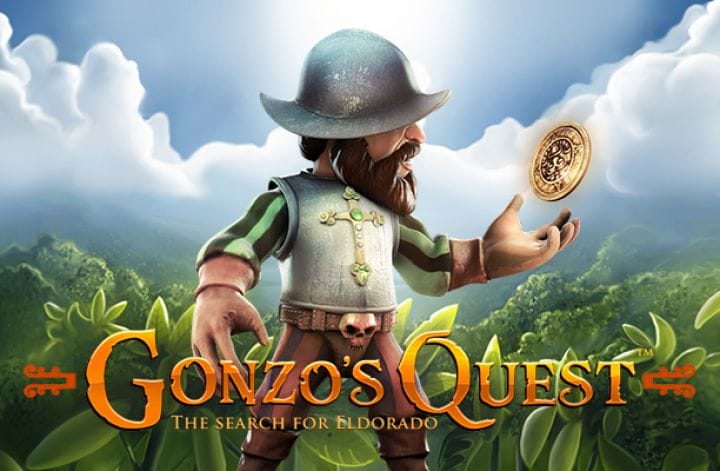 Though this is not the stereotypical slots game, the so-called reels are made up by cascading blocks which stack perfectly on top of each other to create the reels we are used to seeing in this style of game. Due to this, it is the Avalanche feature that excites platers the most as the tumbling and exploding blocks increasing the winnings substantially and may just multiply them along the way, too. The more winning block combinations you find, the more blocks will fall from above and give you the opportunity to win more combinations. The Free Falls feature in this game is the equivalent the free spins, and when you activate this feature a minimum of 10 free spins will be possible. With multipliers reaching the value of x15, there is a lot to play for when the Free Falls feature kicks in, as this is the most profitable area of the game. Look out for the secrets wilds that can win additional cash prizes throughout the game, too. With so many ways to win and so much cash at stake, it is not difficult to see why Gonzo's Quest has remained so popular with gamers for such a long time.
Mega Moolah
One of few such popular progressive slots games, Mega Moolah has been a massive hit with its gamers since 2006. It's a mid-volatility level slot with 5 reels and 25 payline and the ability to help you to win the big million. In fact, so many people have won their fortune on this slots game that it is more commonly known as the "Millionaire Maker" and its effects can be life-changing. With multiple different jackpots available ranging from £10 up to £1 million, this 88.12% RTP game has lots of exciting features which have enabled it to remain so popular with its followers for over 13 years.
The wild in Mega Moolah is the lion and it is able to replace all other symbols and maximise your winnings. If you win at the same time as having a wild in play, then you will be able to double your winnings and this can create substantial cash fast. If you win during your free spins feature then your winnings will be tripled and this is done when three scatters at least are aligned on your reel at the same time. The monkey may look fun and mischievous but actually, he is the way in which you will be able to trigger 12 free spins for yourself which can be turned in to 30 free spins if you can find another three cheeky monkeys hanging around your reel. Start placing your bets on Mega Moolah from just 1p and you may just be lucky enough to see a massive return in the region of £225,000 as long as the monkeys hang around for long enough to help you to achieve this!
Best Slots in 2020
Choosing which slots games are the best in 2020 is a very difficult thing to do as the "best" is a very subjective term. The list above should be able to offer players of all ages and frequency of play, a free slot game that they would like to play that has bonus features aplenty, high-end graphics and an exciting theme for them to get their teeth into as they play. Using lists like this one enable players to experience new slots games that they may never have heard of before and gives players the low down as to why they are loved by so many other players. 
If you are looking to find alternative slots games which have been popular during 2019, then you could consider taking a look at:
Zuma Slots

Monopoly Slots

Mega Fortune Dreams

Beach Life.
With winter set to hit hard this year, keep dry, warm and comfortable in your own home and keep well entertained by playing your new favourite slots games with your favourite promotional offers.
Our free spins offers and prizes are subject to the following Terms and Conditions!