Progressive slots offer lucrative jackpots to players making them the most popular games played at online casinos. While experienced players are well aware that there are numerous games with much lower house edge like blackjack or poker, they will choose to play networked progressives. The motivation is that there are no other games with such high payouts. Find these games at the Mega Reel casino!
Understanding How Progressive Jackpots Work
Unlike most slot games with fixed jackpots, progressive slots have increasing jackpots that grow with each bet placed. The idea behind how they work is quite simply—a small percentage of every wager goes to the pool until one lucky winner hits the winning combo that triggers the jackpot payout. In real sense, only games with the highest number of players and bets have the highest jackpots to be won. When playing progressive jackpots, there are several things that you need to know.
Qualifying
Before you can place your wager and start playing, you need to understand that not every progressive slot can end in an attractive payout.  The majority of these games require you to place a maximum bet. For some, this would mean betting more than $10 per spin or even more. It is important that you, therefore, consider whether playing a progressive jackpot is really worth it. 
Jackpot Meter
Progressive jackpots do not start from zero but a preset minimum level referred to as a seed. In some games, the amount is $100 or $10,000. Others start at an amazing $1 million. For instance, if a game you are playing awards one winner the one million dollars this week, it may award another lucky winner $2 million the following week. 
Almost all progressives have a jackpot meter.  A jackpot meter is a digital representation of the constantly increasing pool. The game will display the amount of each jackpot so as to attract more players. It is also an attractive tool for the consumers as it shows them when the jackpot amount is lucrative enough to play. 
Odds and Returns
The combination of symbols that lead to massive payout is rare and on average, comes in at least several million times. In fact, the chances of winning popular online progressive ranges between 1 in 250,000 to 1 in 50M. But you do not have to play 50 million times for a chance to win. If you are lucky you can hit the jackpot with a single bet. 
According to slot experts, the return percentage of progressives is much smaller than the return of regular slots. A return percentage in a slot machine or another casino game is the average amount of money the player receives as winnings.  On average, the RTP of slots is between 88-97%. In progressive slots, part of this goes to feed the jackpot. In most cases, the RTP of progressive slots is up to 85%.
Popular Progressive Jackpot Games
The majority of casino game developers have added slots with a progressive jackpot. However, there are few casinos that will offer such games. In order to find a good progressive game, you may need to do thorough research and check more sites. Still, the number of progressive games available in the market is high.  Below are some of the most popular progressive slot machines.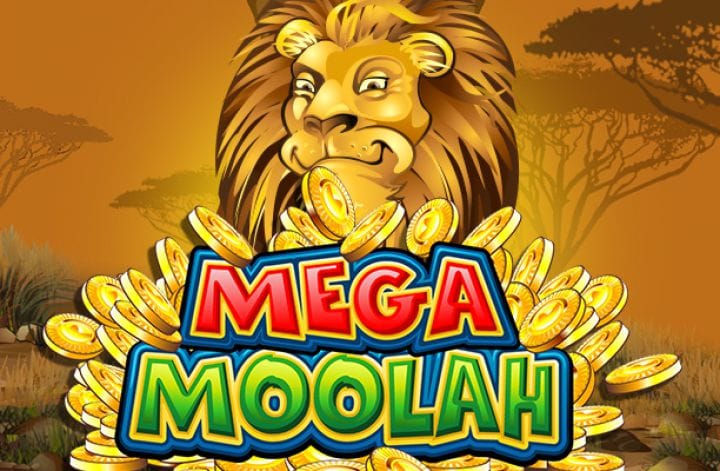 Mega Moolah
The Mega Moolah slot is the most popular slot by Microgaming. This is a 5 reel, 25 pay line online slot with an African Savanna theme.  Symbols on the reels include elephants, buffalos, monkeys, lions, and zebras. The lion is the wild and doubles the payouts whenever it forms part of a winning combo. The scatter symbol is represented by the headhunter trophy. It triggers the free spins feature when three lands anywhere on the reels. All winnings during this feature are subject to a 3x multiplier.
Jackpot Giant
This is a 5 reel, 50 pay-line progressive slots by Playtech.  It features a friendly giant who spends his free time flinging coins into volcanoes. 
The game has a Stone Age feel with its mountainous background, an ancient village, and rocky symbols. The giant is the expanded symbol, while the handful of gold is the scatter. The volcano is the bonus symbol. The wild icon substitutes for all other symbols bar the bonus and scatter symbols. To trigger the bonus symbol, land on 3 or more bonus icons where you choose volcanoes to earn cash prizes. 
Mega Fortune
The Mega Fortune is a Net Entertainment slot that features 5 reels and 25 paylines. The slot is inspired by the life of the rich and features a Yacht as the Wild symbols and a Champagne bottle as the scatter. The wheel is the bonus symbol that activates a jackpot round when three appear anywhere on the reels. 
Cash Splash
The Cash Splash is the first progressive slot machine from Microgaming. It comes in two variations: a three-reel and video slot game version. Both versions of the game are designed to award their progressive jackpots to players on any spin. However, players need to wager a total of 3.00 to have a chance of winning that jackpot which is linked on both slots. 
Hall of Gods
Hall of Gods is a NetEnt's free slot games slot with a Norse Mythology.  The game has three jackpots that can be won. It also features a free spins bonus feature and an expanding wild symbol. However, you will need to play off a bonus game when three of the bonus symbols have been spun in to try your luck at winning one of the three progressive jackpots linked to this slot game, which vary in size. 
Going Beyond Slots
While it is hard to deny the popularity of progressive slots online, there are other games that you can benefit from as well. If you don't feel like taking the reels for as pin, you might want to try a progressive table.  You can play any of these games: poker, roulette, blackjack, or video poker. All have lucrative jackpots waiting to be won. Playing progressive games is not hard. Most likely, you already know how to play since most progressive games use standard casino rules but have an optional side bet. Find more jackpot games guides in our handy, simple to understand article!
For more details on free spins check out our Terms and Conditions.