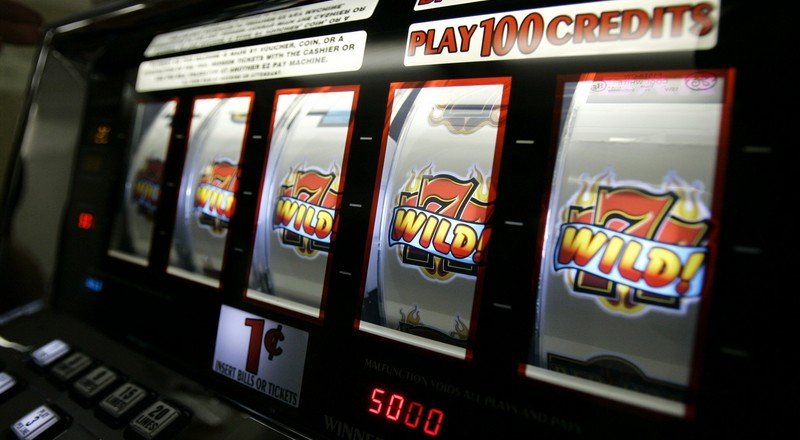 The most prominent type of slot is the five-reel game. Land-based slot games once started with three reels, mainly because of space issues. However, in the online space, creating slots with five or even infinite reels is no longer an issue. As this form of slot grew in popularity, five-reel and line slot became the norm. After all, this is the version most people are familiar with.
The reels on a slots online machine are the vertical bars that hold the symbols. The player needs to spin these and match the identical symbol to win. So, what are five-reel and line slot machines like, and why should you play them?

What is a five-reel slot machine?
Five-reel slot machine games are exactly what their name suggests. These are slot machines with five reels, which means that players will need to line up three, four or five symbols across a pay line to achieve a win.
In the classic era, three-reel slots were the most common, and players needed to match three symbols across a pay line to achieve a win. As you can see, the five-reel game is much more forgiving, acting as an upgraded version of the original slot machines.
Five-reel slot machines tend to have higher variance, making winning pay lines more likely to appear. This fact is just a product of there being more ways to win. Sometimes these reels are called lines, and that is why we refer to some slots as five-reel and line slot machines.
Why play slots with five reels?
Five-reel slots are the most prevalent type of slot game. This is because they come with a number of benefits over the three-reel game and even some of the larger formats. These include:
More ways to win: we have alluded to this benefit already, but it really is the most common reason. Five-reel slots count a win as three or more identical symbols across adjacent reels going left to right. Some five-reel slots even count two or more of these symbols as a win. Compare this to the three-reel, three symbol pay lines from more traditional slots, and we can see how much more rewarding a five-reel slot can be.
Bonus Features: five reels means that more symbols can take space on the reels. This means that developers can include bonus symbols such as wilds to act as a substitute for regular symbols to complete or extend winning pay lines. Scatters are also included in five-reel slot machines as a means to trigger other bonuses, such as free spins. Essentially, five-reel slots give the developer more space to play with, which means they do not have to be so conservative with what they include in the machine. This can lead to more gameplay variations.
User-Friendly Interface: five-reel slots are generally easier to play than more traditional games. Therefore, they are more inviting to the casual player. Developers know this, and try their hardest to improve on this appeal by making the user interface as friendly as possible. If a player can work out how a machine works, they are far more likely to give it a try. Therefore, five reel and line slot machines are easier to understand than other forms of slots.
Most players choose to play five-reel slots online; however, this does not mean that the physical machines have become obsolete.
What is a Physical Slot Machine?
Slot machines were the first form of the slot game. They have evolved considerably since their original conception. The three-reel lever pull machines have faded out of existence to make way for slots on a screen or video slots.
This new format has allowed developers to put more creativity into their games, including extra reels and bonus features, as mentioned above. Of course, these types of machines are still found in land-based casinos, but why would anyone choose these over online slots?
Benefits of Slot Machines
It is handy to be able to log on and play slots from the comfort of your own home, but that does not mean slot machines have no benefits. There are plenty of reasons to play physical five-reel slot machines rather than online slots, which include:
The Atmosphere: comfort is great, but nothing compares to the lights and sounds of an actual casino. These buildings have been designed specifically to make gambling the best experience possible. Playing physical slot machines at a land-based casino is unlike playing anywhere else, so it is defiantly worth the risk
Security: slot machines have been updated in current years. You can still play with coins or move into the future and pay your deposits with a contactless card. Either way, these payment methods are secure and made with you present. While online casinos try to be as secure as possible, internet hacking is still a problem. Why not remove this problem entirely by paying and playing at a physical slot machine.
It's more social: you can't deny that playing slots with others is a blast. Sure, you could crowd your friends around a laptop screen while one person plays, or you could visit a machine designed to be played with a crowd watching. However, physical slot machines provide the best way to play slot games with others.
No interruptions: to play online slot, you need to be, you know, online. This isn't a problem if you have a reliable connection, but it is possible for your computer to shut down halfway through a game. Worse, you could encounter the dreaded buffering icon. None of these problems will occur when playing a physical slot machine. That means there are no interruptions, and you can keep playing until you decide to stop.
These benefits of physical slot machines make them sound like the perfect way to enjoy slots; however, these machines aren't infallible.
Cons of Playing Slot Machines
Unfortunately, physical slots aren't perfect. There are a few downsides to playing these versions, which include:
Lack of variety: it is easy to log on to a casino site like Mega Reel and choose one of 600 hundred slot games. Each one of these slots will be different as some will have three or five reels or a new theme. However, with a physical slot machine, players are limited to whatever the land-based casino offers. Also, with a lack of space, it can mean there won't be many slots to choose from.
Not as many bonus features: the screens on a physical slot machine have updated the games somewhat, but nothing can be as immersive as an online slot. Some bonus features can be time-consuming, and the casino wants players to play and leave in quick succession. That is why you won't find as many bonus features on a physical slot machine.
Now that we understand the limitations, what are the best five-reel and line slot machines?
The Best 5 Five Reel and Line Slot Machines
Below, we have created a list of only the best five-reel and line slot machines.
Megabucks
Megabucks is a five-reel, progressive jackpot slot machine from IGT. You can play this machine with bets placed between £1 and £3 per spin, and there is a single pay line. As alluded to above, there are no bonus rounds in the Megabucks slot machine. The only goal players have is spinning the reels and lining up as many symbols as possible.
The highest the progressive jackpot has ever reached in this machine is £20,000,000, but that was over five years ago. Physical slot machines often have lower RTP rates than online slots, and that is most obvious in Megabucks, as the RTP rate stands at 88.6%. This percentage gives the casino a house edge of around 11.4%.
The Dark Knight
The Dark Knight slot machine from MicroGaming is the perfect example of a developer trying to make a five-reel slot more appealing. This five-reel slot machine is based on the mega-hit movie of the same name. The symbols are ripped right out the Batman flick, featuring the joker, two-face, Commissioner Gordon and Batman himself.
You can play The Dark Knight slot machine with a bet placed between 30p and £6, and there are 243 ways to win. This slot deviates wildly from the Megabucks example, as it features a ton of bonus features. Players will experience rolling reels, stacked wilds, free spins, extra wild blasts and missile wilds all in one game.
The RTP rate in this slot machine is 95.96%, and the variance is medium. As such, expect small wins frequently as opposed to one massive jackpot hit.
Achilles
The Greek God of legend is rife for a slot machine adaptation. Unfortunately, the five-reel Achilles slot machine from Real Time Gaming highlights just how unforgiving a physical slot machine can be.
This is a 25 pay line game with a 94% RTP rate. The player must spin the reels and try to match the Greek-themed symbols three, four or five times across one of these pay lines to win a prize. The most lucrative symbol in this slot is Achilles himself, while the city of Troy is the scatter.
Achilles does come with a free spins round and a random jackpot feature. However, things are kept simple in this slot, and players are likely to bottom out before winning a significant amount.
Gonzo's Quest
Gonzo is a lucky adventurer on the hunt for the lost treasure of El Dorado. As such, this five-reel slot machine from NetEnt comes with a colourful design and simple gameplay. The RTP rate is 96%, the current average for online slots, which beats out a lot of other physical slots.
Gonzo's Quest features the avalanche feature, which activates after a player lands a pay line. The winning pay lines will vanish and allow the symbols above to drop into their place, possibly forming a new win. This process will repeat until no new wins are formed. The avalanche feature in Gonzo's Quest highlights how versatile physical slot machines can be.
You can play Gonzo's Quest with a max bet of £50, and the max pay out is £125,000.
Kings of Cash
The Kings of Cash is a five-reel animated slot from MicroGaming. This colourful game is themed around playing cards and features them as the symbols, the most noteworthy of which being the kings.
This slot has two types of scatter and a free spins round where the pay outs are doubled. The max bet is only £3.75 per spin, but the max jackpot sits at a lofty £75,000. The RTP rate is a solid 96.6%, which suggests that players will receive £96.60 per £100 bet into The Kings of Cash.
By looking at these five-reel slot machines, we can see just how versatile these types of games are. No matter what type of slot you wish to play, you can find a variation that falls under the five-reel and line slot machine category.
Summary on 5 Reelers Slot Games
Slot machines are not as popular as they once were, but you can see how the rise of the online slot has affected these types of games. The five-reel slot is now the most popular and licensed, and user-friendly slot machines are now the norm.
This might be because the five-reel and line slot games pay out the most or because they are the easiest to use. But, no matter the reason, players can go wrong when they play five-reel and line slot machines.
NEW PLAYERS ONLY, MIN DEPOSIT £10, £8 MAX WIN PER 10 SPINS, MAX BONUS EQUAL TO LIFETIME DEPOSITS (UP TO £250), 65X WAGERING REQUIREMENTS AND FULL T&CS APPLY.
*All values (Bet Levels, Maximum Wins etc.) mentioned in relation to this slot game are subject to change at any time.